Water for irrigation also included in water flagship programme
Komal Kharka, Thimphu

Jul 23, 2019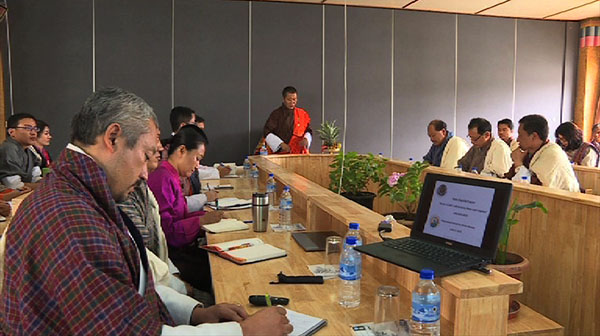 Water flagship programme planned for 2019-2020 fiscal year will now see some changes as per the recommendations made by the relevant stakeholders yesterday.
Initially, the flagship program only included drinking water but as per the recommendations from the Prime Minister and the cabinet the flagship programme now also includes water for irrigation.
A thorough discussion was held yesterday during a review meeting also attended by the prime minister. The flagship programme will be led by the National Environment Commission Secretariat and implementation body includes the Ministry of Works and Human settlement, Gross National Happiness Commission, Ministry of Health and Ministry of Agriculture. The programme has identified 11 Dzongkhags and 4 Thromdes for protecting critical watersheds and wetlands.
Improving drinking water supply, providing safe drinking water 24/7 and providing adequate irrigation water wherever necessary are the main components of the flagship programme. The areas were identified based on the number of houses and water supply per hour per day. The prime minister said irrigation water is also equally important as most places share irrigation and drinking water sources.
Nu 3bn has been allocated for the flagship programme which, according to the officials, is not enough for the entire project. For the long term sustainability, Lyonchhen said more of research and feasibility studies need to be done during the first term. The programme as per the Lyonchhen should also include specialization of human resource and water engineers. The annual performance agreement for the flagship programme will be signed once the necessary changes are carried out.