Preserving folk songs of Bumthang
Kipchu, Bumthang

Jul 23, 2019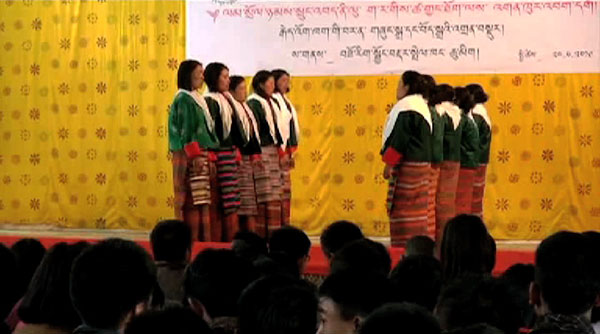 Participants of a recent Inter-Gewog Boedra-Zhungdra or folk music and dance competition in Bumthang say such initiatives at the district level would go a long way in preserving some of the folk songs and dances native to their communities. Participants, both young and old, from various gewogs in Bumthang presented some of the oldest known aboriginal songs and dances of Bumthang at the competition. 
Draped in beautiful kiras and wearing their iconic headdress (Toray), women from Ura Gewog performed Lhalung Chorten, an indigenous song originated from Ura. The song is believed to have been presented to Tertoen Pema Lingpa by the people of Ura several centuries ago. Composed in a blend of Dzongkha and Bumthapkha, the song is a tribute to the Great Treasure Revealer, describing him, his lifestyle and his palace. The dancers feel that the song and other associated cultural traditions of Ura will continue to thrive and be a part of the people of Ura.
"All the dancers from our gewog are generally very young, so I think it is a sign that cultural preservation is very much vibrant in our community. Now that we are already aware and associated with our cultural heritage, we hope our children and the future generations will continue this practice," Tshering Dema, the Ura-Dozhi Chiwog Tshogpa, said.
Similarly, the women from Gyaltsa in Chummig Gewog presented Shar Liphar Ling, a Zhungdra composed by Tertoen Dorji Lingpa's 9th reincarnate, Buli Trulku Lam Khashap Dorji. The song, which is in Chhoeked, is believed to have been composed over a century ago. The people of Gyaltsa perform the song annually at Buli Goenpa's annual festival called the Buli Mani.
"For rural folks like us, it was a great opportunity to showcase our culture and way of life to the public. Now that I am already old, I wish to teach these folk songs and dances to the youth if they are interested and come forward to learn them," Pangkay said.
The winners and the participating Gewogs were awarded cash prizes. The Bumthang Dzongkhag Administration plans to organise the event annually. The office spent Nu 200,000 for the program.