New pvt. Nursing institute opened in the capital
Phub Gyem, Thimphu

Jul 18, 2019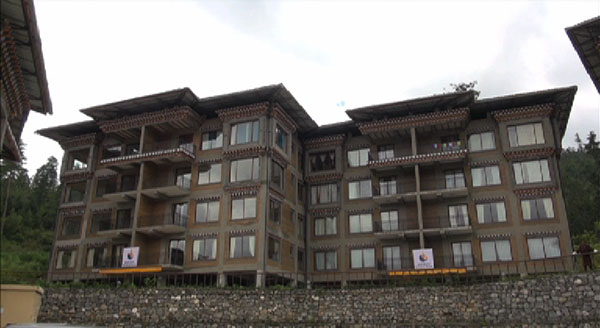 Besides looking into business prospects, committing to addressing the shortage of healthcare personnel and building capacity of existing health workers, a new nursing institute opened in the capital today.
Apollo Bhutan Institute of Nursing which is affiliated to Khesar Gyalpo University of Medical Sciences and Bhutan Medical and Health Council will be regulating the institute.
The institute is located at Yangphel Real Estate at Kabisa in Thimphu.
At the inaugural Health Minister Dechen Wangmo said the opening of the institute is a timely intervention towards building capacity of health workers in the country.
"A major contribution we will be making is to the human resource development since there are so many nurses leaving their professions either because of personal or professional reasons or for higher studies. We will be solving the problem of shortage of nurses in the country," said Pema Dolma, the dean of Apollo Bhutan Institute of Nursing.
Apollo Bhutan Institute of Nursing is a Foreign Direct Investment joint venture between Apollo Group India and a private travel agent in Bhutan. The institute offers three years diploma course in general nursing and midwifery which will cost a nursing student between Nu 75,000 to 85,000 per semester.
"Since it's a three-year diploma programme in general nursing and midwifery, a huge chunk of it is midwifery actually. So health ministry has been kind enough to designate us Paro and Wangdue Phodrang hospital for our teaching purpose. Our students later on in their practical sessions will be posted to these hospitals where they can practise whatever has been taught here so they can apply their practical skills in these hospitals," the dean added.
The institute also guarantees employment in India and worldwide upon successful completion of the course.
"Since we started a joint-venture FDI project with Apollo India, we have guaranteed 100 per cent employment in Apollo hospitals in India and worldwide. And the reason we look for employment guarantee is that a lot of students pay a lot of money to go to college in Bhutan and India with no job guarantee at the end of the day. And since unemployment is such an issue we wanted to enter into an arrangement whereby our students are automatically hired," Khendum Dorji, the CEO for Apollo Bhutan Institute of Nursing, said.
Besides, the institute is also first FDI in the health sector. The academic session at the institute is expected to begin by next month.