First Bhutan-Bollywood collaboration film in the making
Sonam Pem, Thimphu

Jul 18, 2019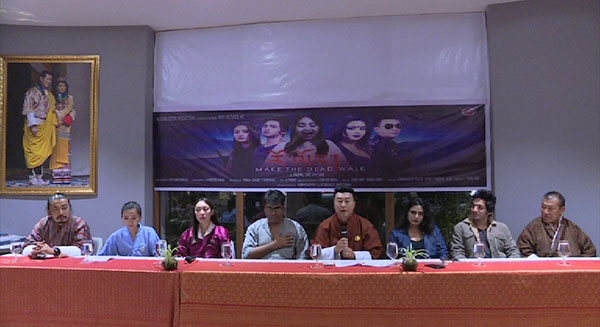 With the intention to make Bhutanese films expand its audience horizon and build more impact in the international arena, Bhutanese Film Industry is venturing into the biggest film project worth over Nu 100 M. The film would be the first Bhutan-Bollywood International film collaboration.
It would be screened in over a thousand cinema halls across India as well as in the United States of America, Canada, the United Kingdom and Australia. The film is expected to hit the theatres by mid of next year.
The filming began today with the cast and crew gathered in the location. The film has two Bollywood actors alongside the Bhutanese actors. Titled Rolong: Make the Dead Walk, the movie will be shot entirely in Bhutan. Unveiling the first look of the collaborative film project at a press conference yesterday, Faisal Saif, the director of the film said, it will be a thriller.
"It's very difficult to make a genre which is a thriller because you have to keep the audience hooked to their seat till the end and that's a very big challenge. The film is not only a thriller, but it's also a scary thriller, it talks about greed, betrayal, it talks about a country which is a very peace-loving and spiritual country, Bhutan and how an outsider who comes in the country and does certain demonic crimes. That is the reason why I opted for the subject. The subject is actually based on a popular myth," said Faisal Saif, the director.
Considering the regional and international audience, the actors in the film would be seen conversing in Dzongkha, English, Hindi and Bengali. The project is expected to greatly enhance the expertise of the Bhutanese cast and build the technical capacity and production value of the local Bhutanese films.
"We have professionals from Bollywood in a prominent position as actors, artists and stars. We also have a director from Bollywood, a very well-known director known as Faisal Saif. He is a very popular director there and we also have a technical crew and cast from Bhutan in a very important position also assisting the director and we are learning from each other. It's a capacity building on the job endeavour and this will only make the Bhutanese film industry go to a higher level. And hopefully, in the very near future, we will make such films that are comparable worldwide." Sonam Penjor, actor/producer of the film said.
Today, the film industry is confronted with inadequate infrastructure, technical expertise, limited market share at the regional and international levels. Yet the industry has made commendable progress in terms of improvements in the quantity and quality of films produced every year. With this collaboration, it is likely to further raise the standard and expertise of the Bhutanese Film Industry garnering both local and global attention.