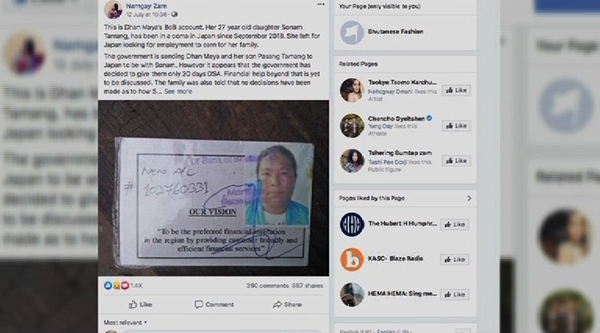 Bhutanese from across the country came together supporting the online campaign, initiated by Namgay Zam, the Executive Director of Journalists Association of Bhutan (JAB) in raising more than Nu 1.8 M for Dhan Maya to be with her daughter who has been in a coma in Japan since last year.
The online campaign started from 12th July by Namgay Zam via her facebook page. She posted Dhan Maya's  BoB account details with her story.
Since then many people have shared and commented on her post with screenshots of fund transfer.
Dhan Maya's 27-year-old daughter, Sonam Tamang has been in a coma since September last year. She left for Japan looking for employment to earn for her family. She went to Japan in October 2017 and in September last year, she fell sick and went into a coma. Her life now completely depends on a life-supporting machine at an Intensive Care Unit in Japan. For now, Sonam's roommate is taking care of her in the absence of her family.
According to Passang Tamang, Dhan Maya's son, the government is sending him and his mother to Japan to be with Sonam. However, since the government decided to give them only 20 days DSA, they thought it will be difficult for them to survive in Japan after 20 days. He said while he will be staying there for only one to two months, his mother will stay in Japan until his sister recovers.
He added, he wants to thank the people of Bhutan, and Usha Drukpa, a journalist from the Bhutanese and Namgay Zam for helping his family. Because of them, a mother will be able to see and be by her daughter's side.
70 per cent of Sonam's medical expenditure is met by medical insurance in Japan, while 30 per cent by the government.