Palden Tshering Yangchen of Drukgyel School wins the 12th GYA
Tshering Dendup, Thimphu

Jul 15, 2019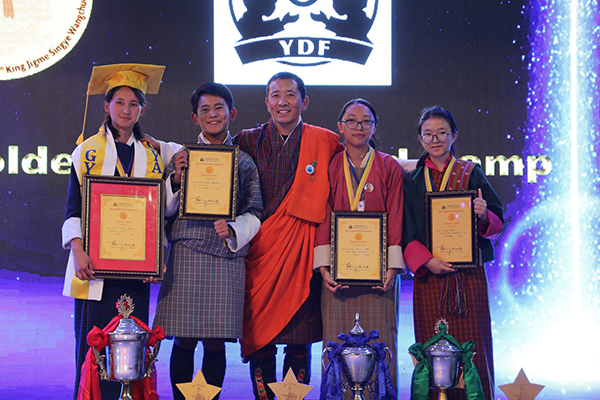 Picture Courtesy: PMO's Facebook Page
Palden Tshering Yangchen, a student of Drukgyel Central School in Paro won the 12th Golden Youth Award (GYA). Prime Minister Dr Lotay Tshering awarded the GYA at the camp's closing in the Thimphu yesterday.
80 students selected from 20 Dzongkhags gathered in Thimphu to compete for the award. They go through a series of competitions from literary activities and sports to exceptional talent shows.
Right after winning the award, Palden Tshering Yangchen said it feels like a good dream. She will receive a two-year scholarship to study abroad from the United World College coordinated by Bhutan Youth Development Fund (YDF) next year.
"I enjoyed the camp a lot. I made a lot of new memories and made 79 new friends and the teachers were really great. Many challenging programs were there but the toughest part was the writing part where my mind went completely blank and I could not figure out what to write down or what to note down. I will try to motivate as many youths as possible in my school and in the community."
Sonam Tenzin Wangchuk from ELC High School in Thimphu received the first runner-up award followed by Tshering Yangchen Lhamo of Samtse High school and Sonam Tshomo of Jakar High school in Bumthang.
The 12th Golden Youth Award camp organised on the theme 'Slewai Melong- the mirror of clarity' from July 4-14. So far, seven students have received scholarships to study in the Netherlands, Singapore and Canada as part of the programme.
The first edition of the camp was held in 2008.