Four monks from Zhung Dratshang to pursue traditional medicine courses
Choni Dema, Thimphu

Jul 12, 2019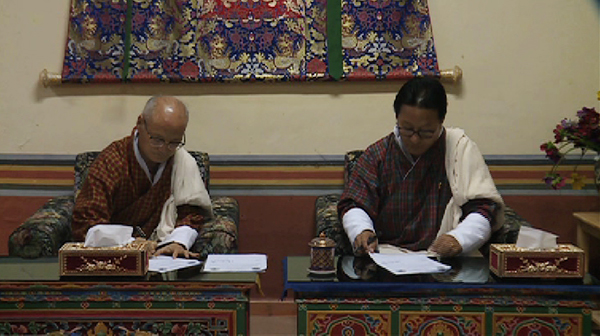 To enable the monks to extend their services, four monks from Zhung Dratshang will now pursue traditional medicine courses at Khesar Gyalpo University of Medical Sciences of Bhutan (KGUMSB) in Thimphu from this month. To this effect, the Memorandum of Understanding (MoU) was signed between Zhung Dratshang and KGUMSB today.
Of the four, two will take up a course in Bachelors in Traditional Medicine (Drungtsho), which is a five-year course. For the course, the monks need a Bachelors Degree in Buddhist Philosophy with an English background.
Two will take up Diploma in Traditional Medicine ( Menpa), which is a three-year course. For the course, the monks have to complete Dzingda Zhigpa from Sherda with an English background.
"We have to enforce the admission criteria very strictly. We need to consider candidates with at least class 8 English background with English language proficiency certificates. They should know how to read and write. Dratshang Lhentshog has to arrange fund to KGUMSB  for training," Karma Tsering Namgyal, the Secretary of Dratshang Lhengtshog Secretariat, said.
He said it was initiated after the Royal Command.
"If we look at the history of Bhutan most of the Drungtshos in the past were from the Zhung Dratshang. This Sowa- Rigpa is important in the country because treating a person not only needs medical attention but also be mentally involved. And when a monk or lam trained as Drungtshos, the respect the reverence given by the general public appears to be more."
The MoU will  be jointly reviewed every  three years  by the Dratshang Lhengsthog Secretariat, with members of Zhung Dratshang and the Board  of KGUMSB