Water problem woes in Samdrup Jongkhar continues, but not for long
Kinley Wangchuk, Samdrup Jongkhar

Jul 11, 2019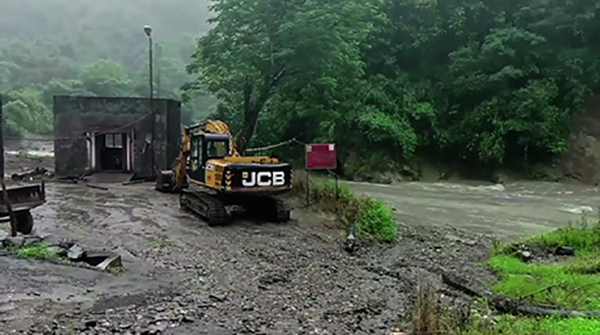 Heavy rainfall continues to disrupt drinking water supply of Samdrup Jongkhar thromde, according to local residents they have been facing drinking water problem for many years. But the trouble will all come to end once the water treatment plant is complete.
Samdrup Jongkhar thromde has three water distribution system, they are Gravity at Rekheychhu, Water Pump House at Dungsamchhu and Bore Well at Samdrup Jongkhar Mead.
Water from Gravity and Water Pump House system is supplied to Samdrup Jongkhar Teod and Bar while Bore Well system supplies to Samdrup Jongkhar Mead.
Both the Gravity and Water Pump system were damaged by heavy rain last month and after two weeks the thromde restored it, but again with heavy rainfall for the last few days, water supply has been interrupted.
"They have constructed these supply systems a long time back, and all the pipes are old, most of them do not work. We face major problems in two demkhong, Teod and Bar. The problem does not happen all the time. It's just during the summer season. When it rains all the pipes get washed away and in the Pump station it gets filled with sand, so it is not possible to supply water. From our side we start working from the day it gets damaged but continuous rainfall is causing the problem," said Karma Sherab Thobgyal, the Thrompon of SJ Thromde.
According to him, Samdrup Jongkhar Mead demkhong does not have that much problem compared to Teod and Bar demkhong, as water to Samdrup Jongkhar Mead demkhong is supplied through Bore Well.
And without a dedicated water supply, the residents in Teod and Bar demkhong harvest rainwater.
"Sometimes we get water, and sometimes we don't get water, so we use to get water from a pond, without water it is not possible to do anything, I collected rainwater yesterday and used for toilets and all," said Sangay Dema, a resident of Samdrup Jongkhar thromde.
"If it does not rain, we do not face water problem that much, this year with heavy rain there is acute water shortage. People even fetch water from a pond. Thromde provides tanker services sometimes, but most of the time it's not enough for everyone. We will be grateful if thromde could look into it," added Sangay Dorji, also a resident of Samdrup Jongkhar thromde.
The Thrompon says thromde has tried all the possibilities to solve the problem and started construction of a water treatment plant with a budget of Nu 89 M too but the construction got delayed.
"We worked for the treatment plant from 2011 and only in 2016, the construction work was awarded to a contractor. Asian Development Bank has financed it. Actually, it was supposed to be complete in 2018 but with some problem with the contractor, it is still not completed," he added.
According to the project engineer, Karma Thinley of the water treatment plant construction, the construction is not able to meet the deadline since it took a lot of time in constructing a chemical building, purchasing electrical items and getting the approval of drawing and design.
However, he assures to complete the work by the end of this month.
The Ministry of Works and Human Settlement and thromde decided to terminate the contract last month but termination letter was not issued. However, according to some source BBS learnt that a group of team is doing an inspection on the work progress of water treatment plant construction currently.
The Thrompon assures to solve the water problem within his tenure as he has pledged to solve it during the election.
"When I became the Thrompon for the first time, I gave the first priority to solve the water problem. And after winning the second term, I again prioritize to solve the water problem. Now I have two years and the water issue out here will be solved once and for all before my tenure completes. The residents will get a good quality of water right after the completion of the water treatment plant," the Thrompon said.
 Meanwhile, Samdrup Jongkhar Thromde officials had restored the Pump House and supply of water to some parts of the town area was done. Heavy rain on July 9th has swollen the Rekheychhu and Dungsamchhu and pipes of Gravity and Water Pump system were washed away.