Govt. went ahead with pay revision despite economic indicators being negative : Opposition
Komak Kharka & Choni Dema, Thimphu

Jul 5, 2019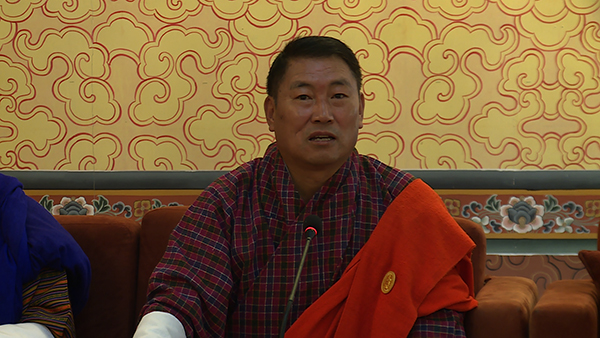 The opposition leader Pema Gyamtsho (PhD) said the government went ahead with the pay revision despite the economic indicators being negative. He shared this during the press conference today. The Druk Phuensum Tshogpa( DPT) said it is not wise to make the move at a time when the country is facing a budget deficit besides having a huge external debt. 
According to the opposition, the party was always sceptical on the recent pay revision. They felt the revision was wrongly timed without proper analysis of the future implications.
The opposition leader Pema Gyamtsho (PhD) said that the government was banking on the hydropower projects and tax reforms which they feel are not a wise decision.
"Will the pay revision serve the intended purpose? I am doubtful. The bill, which got passed has a high rise in the health and education sector. We do acknowledge their services to the community. But will this improve the quality of health services? There are no indicators to ensure the improvement of services in these sectors with a hike in pay. Will, there be a drastic improvement in health services and drastic change in the attitude of the health workers, we do not know. Similarly, in education, the issue is about the quality of education."
He said the opposition members objected the pay revision earlier during the Parliament session. They even questioned the move through the media.
"We told the government that the pay revision won't be able to narrow the gap between the rich and the poor. But once in the parliament, they are more in number and also the power is higher with them. The authority is vested with the government of the day. As per their pledges, they have come to the power and our responsibility is to raise a concern and tell about the possible implications. But in the end, at the decision level, there is nothing much that we could do."
"The size of the 12th plan is Nu 310bn. And for pay revision, Nu 20bn out of 310bn is kept for provision for the pay revision. Nu 20bn is exhausted with the present pay revision. There is a Nu 29bn deficit. Again the prime minister had recently said they need another 11bn for their pledges to be fulfilled so in totality there is no room to generate extra revenue and do another substantial revision," the Opposition MP  Dorji Wangdi said.
The opposition is doubtful on the present pay revision's sustainability. They said it could, in fact, create economic imbalances and discrepancies between the civil servants.
The pay revision according to the opposition party is not likely to address in solving the issue of teachers and health workers leaving the profession. Instead, the government should have come up with initiatives like job creation in order to address issues of unemployment in the country.
The National Assembly endorsed the pay revision bill 2019 on June 19.