The drying lake in Samtengang
Changa Dorji, Wangdue Phodrang

Jul 7, 2019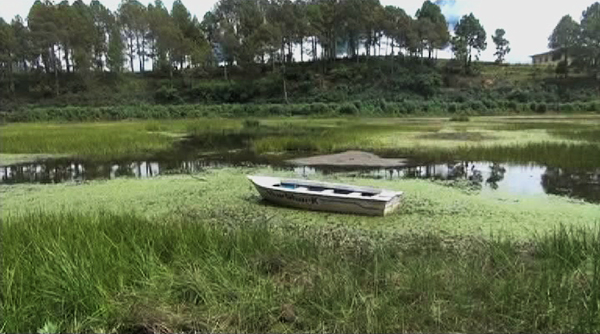 The drying of the Luetshokha tsho or Samtengang Lake in Wangdue Phodrang worries the Nyishog Gewog Administration. The lake has been shrinking for the past few years despite the efforts to rehabilitate the lake.
The lake is located near Samtengang Central School and locals consider it as one of the oldest lakes in the gewog.
At present, the lake is infested with invasive weeds. The weeds were once removed with the help of the Bhutan Trust Fund for Environmental Conservation funded project in 2016.
"We have been removing the weeds in the lake. But afterwards, it is the same and water started drying gradually. During our childhood days, this lake used to look amazing and it was sacred," Dorji Dorji, the Nyishog Gup, said.
"This lake used to be full, but within three years, water level drastically reduced by about one meter. So, it's very sad for us to see the lake, drying," Karma Tenzin, the Nyishog Mangmi, said.
Local leaders say the increased diversion of water for agriculture and reduced rainfall over the years could have caused the lake to dry. Locals relate their problems with the drying of the lake.
 "Earlier, farmers enjoyed a good harvest. But today, we feel that we do not get rainfall on time and people are facing difficulty cultivating paddy because of drying lake," the gup added.
The gewog is now planning to refill the lake and save it to attract tourists.
 "Gewog does not have a budget. So, if the dzongkhag could provide us with the fund, we can work to revive the lake and put facilities in place for locals and tourists. We are expecting to complete the work within this five-year plan," the gup said.
According to an environment officer, the lake helps in replenishing groundwater, improves water quality and preserves the biodiversity and habitat of the area. It also helps in regulating the water flow in monsoon and dry season, regulating the climate of the surrounding area.