Bhutan faring quite well in the region : DSOR
Kipchu, Bumthang

Jul 4, 2019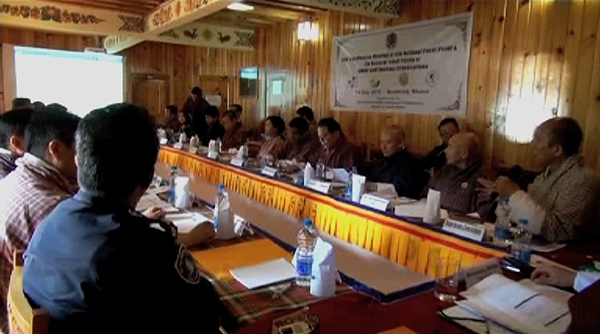 The Department of South Asian Association for Regional Cooperation (SAARC) and Regional Organizations(DSOR) of the Foreign Ministry says Bhutan is faring quite well in the region amid recent tensions among the member states of the regional organization. There has been no SAARC Summit so far since the last one held in Nepal in 2014.
According to Rinchen Keuntsyl, the Director of  DSOR, Bhutan is known for its "commitment and dedication" to the SAARC process and that Bhutan has a very "good standing" among the member states.
He shared his thoughts with the BBS on the sidelines of a multi-sectoral Coordination Meeting of SAARC and Regional Organizations held in Bumthang.
"Bhutan has the good track record of having fulfilled all the commitments and obligations that arises out of our membership to SAARC and other members also see Bhutan as a member that is serious in its involvement in SAARC and as a member that can be depended on and also a member that is always there for the greater good of SAARC."
Meanwhile, officials from various ministries and agencies in the country, who attended the coordination meeting, expressed concerns over inconveniences caused by the abrupt and frequent cancellation of meetings and other activities the regional organizations organise. As a result, the allocated budgets for the scheduled regional programs remain unutilised.
"What we have discussed during the meeting is to see if we can talk to the Ministry of Finance and the Department of Budget specifically and see if they could give certain considerations when it comes to the non-utilisation of budgets. And the other is to solve the issue of last-minute cancellation of programs by talking to member states and see that unless the meetings are fully confirmed by all the member states, it shouldn't be made to appear that the meeting is actually going to take place," Director Rinchen Kuentsyl added.
The participants also shared the need for such coordination meetings so that the agencies concerned can contribute to better organization of programs at the national and regional levels.
"It ascertains a certain system of check and balance as to how the regional organisations' activities are carried out or have been implemented or are yet to be fulfilled by agencies concerned," Kelzang Wangmo, the Sr. Legal Officer of Dept. of Law and Order, said.
"The problem that we have is almost common to all the countries, so that's where we have a better understanding of the problem each country within the region faces and I think that's where we can also get our solutions together," Phuntsho Wangdi, the Director-General of Bhutan Narcotics Control Authority, said.
The meeting, which concluded on Tuesday, also adopted a Standard Operating Procedure for effective coordination between the Foreign Ministry's DSOR and other agencies. Once the document is adopted, it is expected to strengthen Bhutan's engagement in regional organizations.