Toll fees for heavy vehicles using thromde road, Gelegphu
Karma Wangdi, Gelegphu

Jun 14, 2019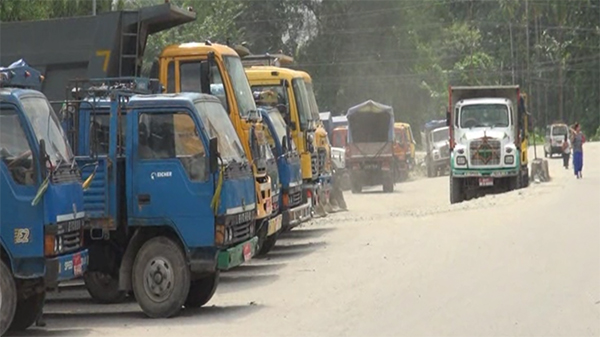 In recent times Gelegphu saw a boom, a boom in the number of heavy vehicles collecting sand and boulders from Mao river for local supply and export to Bangladesh and neighbouring border town of Assam. The thromde is in the process of charging minimal fees for the heavy vehicles plying by the thromde route.
With the inception of boulder export project to Bangladesh, the road inside the thromde area started getting damaged with regular plying of heavy vehicles since the roads are not designed for heavy vehicles.
Gelegphu Thromde administration is going to put up a proposal to the Finance Ministry for approval to charge minimal fees to heavy vehicles for using thromde area route. The collected fees will be used for carrying out maintenance of the road damaged by the heavy vehicles.
"Gelegphu Thromde is in a budding stage. We have limited resources. Soon I will be going to Thimphu to put up a proposal for charging of fees from the trucker at the minimum rate of around Nu 2 per ton or Nu 1 per ton for using of our roads,"  said Tikaram Kafley, the Thrompon of Gelegphu.
Thrompon said plying of heavy vehicles around the thromde core area caused noise pollution and disturb the residents. Therefore, they have designated entry and exit route point for heavy vehicles. After collecting boulders and sand from Mao river, truckers should take only the designated route. They will have to use the same route to enter Mao river for collection too.
"We have designated one entry point. But we still see few trucks not fully complying but we are trying to make them comply through the help of Royal Bhutan Police," the Thrompon added.
There are around three hundred trucks from across the country in Gelegphu for boulders export business to Bangladesh.