Zhelngo village of Sharpa Gewog faces irrigation problem
Sangay Chezom, Paro

Jun 14, 2019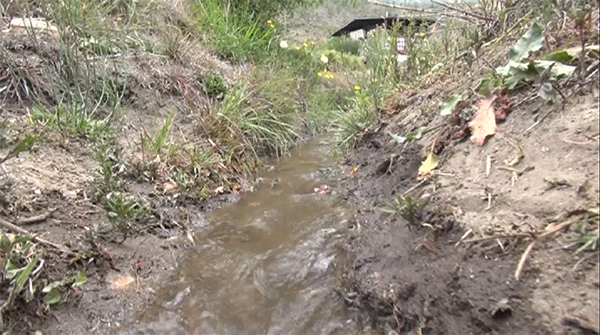 Summer is here, a time for paddy cultivation across the country but farmers of Zhelngo village of Sharpa Gewog in Paro are upset with their dry paddy fields.
Drying up irrigation water and very little rain these days is delaying paddy cultivation and farmers remain sceptical about the rice production this year.
For the last 6 nights and 5 days, 61-year-old Thinley channelled water from the source near Nyephu village to his paddy fields. He diverted his share of water to the drinking water tank and hosed down to his field for cultivation today.
Otherwise filled with a minimum of 11 women for transplantation, today it's just Thinley's wife, Gyem and her friend. This is because only about five terraces of their paddy fields have been irrigated.
"I have coursed water here till this morning and it hasn't done much good. This morning I have channelled it there and it hasn't filled even one field. If we don't use drinking water, it is not enough. We just get once in a month if we go turn wise during cultivation.  When it's sunny, even if we use drinking water, it is not enough to cultivate. And there is no rainfall," said Thinley, a farmer from Zhelngo.
His field usually yields around 400 dres or about 800 kg of rice but this year, he says it will give him not more than 400 kg of rice.
Only two households, including Ap Thinley's fields, has cultivated so far from the 30 households of Zhelngo village.
The paddy fields cultivated the day before are already arid and it's likely to get water only after a month.
"The source is very far and we have to divide between two chiwogs. First, the farmers of Neyphu chiwog have to cultivate and then only we get. And when irrigation water gets here, we have to divide amongst ourselves. It is not enough. Most of the paddy fields have been left fallow. We are using drinking water for irrigation these days for paddy cultivation," Tshering Dorji from the same village, said.
Because five households have to share the water in a day, the paddy transplants are parched and are dying.
"Without rainfall and irrigation water, paddy saplings have dried up. When the entire saplings have dried up, even if we have rain or water, we won't be able to cultivate. And we can't transplant these now because we don't have water," said Chencho Tshering, from the same village.
To some elders in the village, water shortage during the time of cultivation is not new. It seems to have started a decade ago.  The farmers have left many arable lands unused and some have cultivated vegetables, which are drying up as well.
"We can see that fields that are left fellow are all paddy fields. Every year we have the problem of water shortage and every year some fields are left fallow. Some use it to cultivate vegetables but that also gets withered when it is sunny. In the old days, we used to do paddy cultivation. There was enough irrigation water and wasn't that sunny, we could cultivate better those days. For a couple of years now, we always had this problem during paddy cultivation season," added Tshering Zam from the same village.
People have tried pumping water from the Pa-chhu only to incur them huge amount and not reach the paddy fields by the hills. 
The villagers have requested to convert the paddy fields to dry land, but the request has been turned down.  The villagers also have put up a request to gewog administration with the hope to get water from other sources. Until then, farmers of these villages will have to depend on rain and streams for cultivation.