Stipend of RUB students raised to Nu 2500
Pema Tshewang/Samten Dolkar/Sonam Choden/Sonam Pem, Thimphu

Jun 11, 2019
Finance Minister Namgay Tshering
The National Assembly today passed the motion on stipend raise for college students. The recommended raise is from 1,500 to 2,500 ngultrum. The move is mainly to motivate students for better academic performances and provide a nutritious meal.
While introducing the motion, the Samtse Tashichhoeling Member of Parliament (MP) Dil Maya Rai said, the stipend has not been raised for nine years now. She also said the present stipend of Nu 1,500 is enough to provide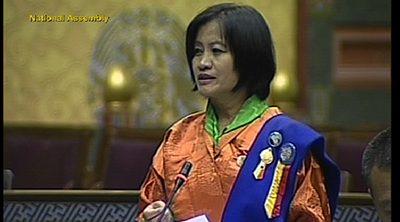 only 300 calories whereas the increase will meet the requirement of providing 500 calories per student. For this increment, the government will have to spend over Nu 79.15 M annually. The MP also recommended the Tertiary  Education Board to provide house rent allowances of Nu 1,500 for day scholars which amount to Nu 15,000 per student annually.
"Students have been sharing about food quality when I was working in colleges and they share the same even today. Of the ten months, they said they are fed on potato curry which they can't take at all. So this is the reason why I am sharing on this issue today," Dil  Maya Rai, MP, Tashichhoeling, Samtse, said.
To this, the finance minister informed the house that Nu 208 M was allocated for the Royal University of Bhutan as a capitation fee. The RUB will decide how and where to use the fund.
"The government has kept capitation fee in the form of a grant for RUB. Accordingly, they will submit their recommendations to the government and the government will release the fund," said Namgay Tshering, the Finance Minister.
Some members also pointed out that the government should also consider equal raise for trainees of Technical Training Institutes.
"Technical training institutes and Zorigchusum institutes are not in the list. I can still remember when revising stipend back in 2010, it was done equally for both colleges and training institutes. So, today also it should apply the same," Dorji Wangdi, MP for Panbang shared his recommendation.
"If the government could consider equal raise for both the training institutes and colleges, it will motivate trainees to pursue their vocational skills," Choki Gyeltshen, MP for Maenbi_Tsaenkhar added.
Today there are over 8,000 students in ten colleges excluding self-funding students under the Royal University of Bhutan.