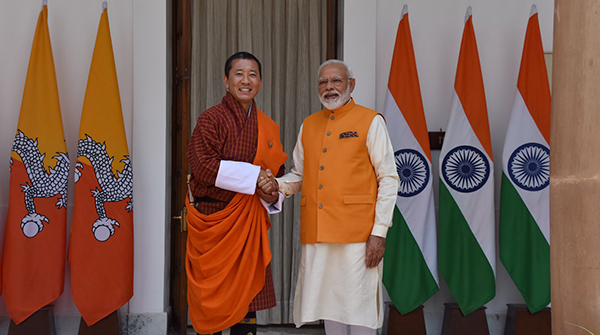 Picture Courtesy: PMO Facebook Page
Prime Minister Dr Lotay Tshering met with the Indian Prime Minister Narendra Modi at Hyderabad House in New Delhi today. At the meeting, Lyonchhen reiterated his invitation to Prime Minister Modi to visit Bhutan at the earliest convenience. The Indian PM accepted the invitation to visit Bhutan on a mutually convenient date.
Lyonchhen also conveyed the warm greetings and felicitations of His Majesty The King, the Royal Government and people of Bhutan.
The two prime ministers expressed satisfaction at the excellent state of bilateral ties of friendship and cooperation, which are marked by utmost trust, mutual understanding, goodwill and respect for each other's interests. They reaffirmed their commitment to further strengthen co-operation in all areas of mutual interest and to take the bilateral partnership to newer heights.
Lyonchhen expressed gratitude for the invitation to attend the most auspicious occasion and for the warm reception accorded to him and his delegation.
He along with all the Heads of State and Government of BIMSTEC member countries and Kyrgyzstan and Mauritius attended the swearing-in ceremony of Indian Prime Minister at the forecourt of Rashtrapati Bhavan yesterday.  Indian PM Narendra Modi was sworn in along with 24 Union Ministers, 24 Ministers of State and 9 Ministers of State with Independent Charge.
Lyonchen will back in the country tomorrow. This is Lyonchhen's second visit to India after assuming office in November 2018.