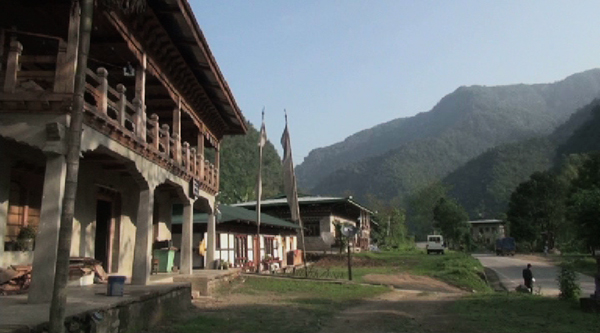 The 770 megawatt Chamkhar Chu Hydropower project was to be a salvation for the people of Kheng-Rig-Nam-Sum, but with the National Assembly shelving it, People of Zhemgang said their hopes and aspiration are all shattered by the news.
With the start of Detailed Project Report (DPR) of Chamkhar Chu 11 years back, some people of Pantang in Phangkhar Gewog have started to establish businesses and construction of houses, anticipating the Chamkhar Chu Hydropower Project to materialize soon and commence on the said date. However, the decision to take it off from the 12th Five Year Plan has left Zhemgang people in disappointment.
Locals say the Chamkhar Chu Hydropower project has been one of the main campaign pledges for all political parties to garner votes.
Apart from completed housing constructions in Pantang, there are many constructions underway in Panbang, Digala and even at Tingtibi in Zhemgang looking for the same opportunity from Chamkha Chu Hydropower project to boost their economy.
34 households of three gewogs of upper Kheng have given their land to the project for the construction of 11 km feeder road to the powerhouse at Digala in 2009 and recently completed a suspension bridge over Mangdichu at Rindigang.
"We have waited for Chamkhar Chu hydropower Project to start for so long and constructed houses borrowing loans from banks, but now we are told by the government that the project would not be coming. Now, we are in dilemma," Jamphel Wangchuk from Pantang, said.
"We were told that Chamkhar Chu Project is coming soon, with this in mind we constructed houses to start businesses in the hope to improve our lifestyle, but with the news of the plans being stopped we don't even know what else to do now," Rinchen Dorji, also from Pantang, said.
"We were pretty sure that Chamkhar Chu Project will come and boost our rural economy and were very happy. Some far-sighted people have invested their saved money and resources in the construction of houses and businesses establishment here. But now people out here are disappointed," Chajey added.
During the National Assembly session on May 27, the Economic Affairs Minister, Loknath Sharma said the project was shelved since it will have a huge negative impact on the environment and may cost more than what can be achieved later after the construction. considering these, the government is putting up Sunkosh hydropower project as its priority.
The Prime Minister added that the Chamkhar Chu hydropower project should be taken up at the most appropriate time.
While Panbang MP Dorji Wangdi said the news comes as a disappointment for the people of Zhemgang, the Opposition Leader, Pema Gyamtsho (PhD), asked if Zhemgang would get integrated rural development in place of the developmental activities kept at halt due to the project.
However, many expressed Zhemgang would be left aside from the rest of the Dzongkhag in terms of balanced development philosophy.