Over 2 million MT of boulders in stock as export business comes to halt in Gelegphu
Karma Wangdi, Gelegphu

May 25, 2019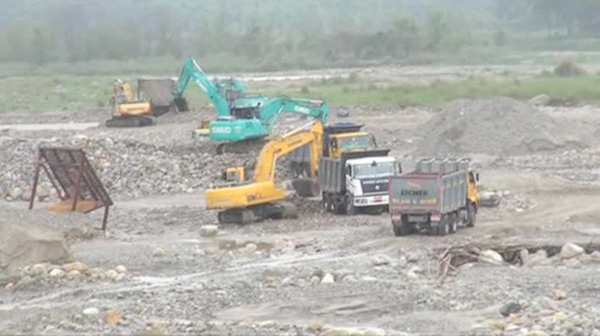 The Natural Resources Development Corporation Limited (NRDCL) in Gelegphu has over more than 2 million metric tonnes (MT) of boulders in stock after the boulder export business came to halt with the implementation of 15 MT load carrying capacity rule recently.
The NRDCL has been carrying out dredging and mitigation works at Mao River from February this year hiring 68 excavators and contractors to export surplus boulders to Bangladesh.
"Our aim is to channel the river in one direction from the centre to protect private land located on both sides of the river. We are also carrying out the dredging works. Approximately, we have 2 million MT of boulders. But with a change in policy, our export is at standstill," Choni Dorji, the Manager of Gelegphug NRDCL, said.
With the implementation load carrying capacity rule from May 20, not single exporter ferried surplus boulders to Bangladesh.
"We don't have a huge amount of boulders requirement in our country. These are all surplus. We could make payment to our hiring agents and contractor only if the export resume to Bangladesh."
NRDCL has exported 2,000 truckloads of boulders from Sarpang from November last year till  April 25 this year.
Prior to restriction of load carrying capacity, more than 30 truckloads of boulders used to leave Bangladesh from Gelegphu daily.
Meanwhile, BBS learned that a task force from the Ministry of Economic Affairs is in Sarpang to study the current issue, but could not contact the team for their comments.