Construction Boom affecting Balance of Trade
Komal Kharka, Thimphu

May 17, 2019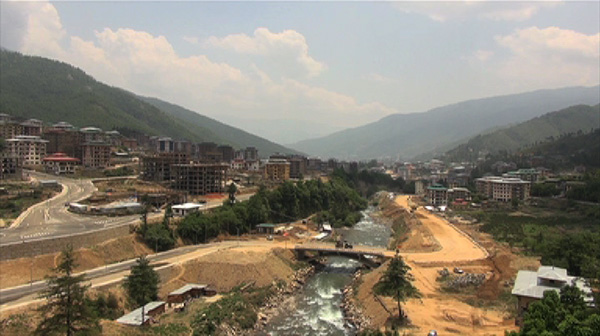 Bhutan is experiencing huge construction boom in recent years. But except for cement, all raw materials for construction are imported leading to huge amount of money draining out from the country.
There is a huge credit injected in the construction sector. Theoretically, credit flow in any sector is a positive indicator. However, this has become the opposite in Bhutan and it is attributed to the huge import of construction materials.
Growing construction means an increase in import. This directly affects the trade balance and the economy as a whole.
"If you multiply the huge amount of construction going on and the import going on it is a drain of money outside the country, so it does affect the trade balance. Our economy does not look good. We are concerned because there is so much of construction going on and there is so much of credit flow in this sector," Loknath Sharma, Minister, Ministry of Economic Affairs, said.
The growth in construction sector, especially with housing construction, has also not improved the social sector. The housing problem still exists and house rent is still constant if not increasing.
The growth of real estate sector in the country is more of a concern and if the present trend continues the negative balance of trade in the economy will worsen.
"The majority of the current economy is due to the growth in the construction sector because the credit has flown there, but we are concerned that credit flow there has not benefitted the local economy, it has not benefited the internal economy because it again goes as an import. This is a very tricky sector. Therefore due to so much increase in the construction sector, it has not led to improving the housing condition of the people," the Minister added.
Over 80% of the country's total import is from India. Fuels, base metals, machinery and electrical appliances, vehicles, wood and food are the main imports of the country.
To address this issue of deficit balance of trade the government is encouraging locals to come up with manufacturing units within the country. For now, Bhutan will have to continue depending on external countries for its construction needs.