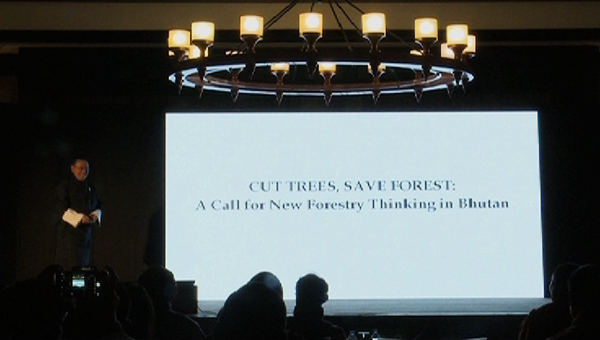 While Bhutan boasts of a rich forest cover, analysts feel there is a need for new forest thinking to make the best of it. The detailed understanding of this new thinking was presented during the second Bhutan Lectures on Innovation, Science and Society (BLISS) held in Thimphu recently.
Presenting "Cut Trees, Save Forests: a call for a new forestry thinking in Bhutan", Phuntsho Namgyel (PhD), a forest analyst, said just like too much of anything is harmful, so is the forest cover in Bhutan.
He said the forest cover in Bhutan has increased to 84 per cent during the last six decades. Bhutan's Constitution mandates the government to ensure a minimum of 60 per cent of Bhutan's total land as forest cover for all time.
"This increase in forest cover has come at the expense of the agricultural lands and the grasslands. For instance, the agricultural land decreased from 9 per cent in 1970s to 2.75 per cent today and the meadows from 4 per cent to 2 per cent," he added.
Moreover, Bhutan's current timber reserve is over 100 million truckloads. And annually, the forests add an annual growth of 1.35 million truckloads of wood.
On the other hand, the amount of wood removed from the forests in Bhutan is just 0.05 million truckloads in a year and, Bhutan is a net importer of wood and wood products.
"In some years, we are importing eight times more wood than we export. The extremely low rates of timber harvesting over the years leading to your forest being overstocked with unhealthy trees, which make them very vulnerable to climate change. The overstocked forest provides very poorer habitats for wildlife, birds and plant diversity," Phuntsho Namgyel (PhD) said.
Overstocked forests are also more vulnerable to forest fires. Therefore forest thinning is important. Many trees also disrupt groundwater supplies.
"Trees consume more water than the agricultural crops and other vegetations. A large douglas fir is said to consume 3,000 litres in a day and an oak tree 189 litres. In an experiment in the UK, researchers found that for every 10 per cent of the upper watershed planted with trees, there was a 1.5 to 2 per cent reduction of water yield in the downstream," he added.
Besides, wood is also the best construction raw material in combating climate change as it can lock up carbon content in the atmosphere.
Phuntsho Namgyel (PhD) concluded that a vibrant and healthy forest industry can address many other national and local issues as well.