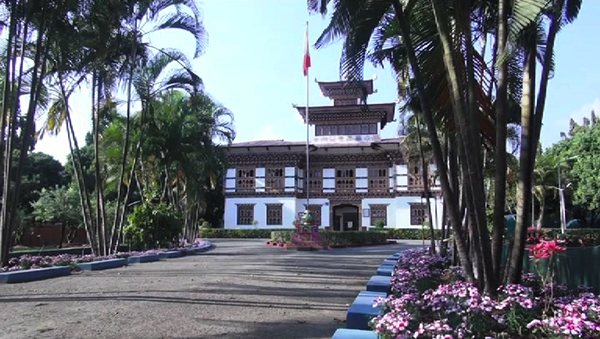 The Chiwog Tshogpas of Phuntshogthang Gewog in Samdrup Jongkhar lodged a complaint against their gup for the misuse of capacity development grant (CDG) without approval from Gewog Tshogde.
They have filed a written complaint to Anti-Corruption Commission (ACC), the Department of Local Government (DLG) and the Royal Audit Authority (RAA) on April 24.
The gups of all 11 gewogs of Samdrup Jongkhar are currently undergoing training on social accountability and good governance in Nepal through CDG from April 29 to May 3. The expenditure for the training is said to be more than Nu 100,000 for each person.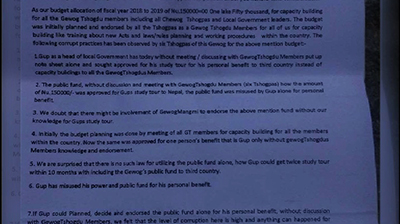 In the complaint letter, they have written, the budget allocation for the fiscal year 2018-19 for CDG of the Gewog Tshogde (GT) members is Nu 150,000. And the budget has been initially planned endorsed by the GT members to conduct training within the country to enhance the capacity of the members.
However, they said gup as a head of the local government without meeting or discussing with the GT members sought approval for his training in Nepal.
The letter states, "the gup has misused his power and public fund for personal benefits." It also states, "we felt that the level of corruption is high and anything any happen to CDG and other funds allocated to gewog in the near future."
They said as per the Annual Performance Agreement (APA) of the gewog, the CDG is kept for all GT members capacity building not for gups' training in Nepal.
The letter also alleged the gups of going for study tour twice within 10 months with the public fund.
One of the Mangmi has also lodged a complaint to ACC against the gups on the same issue through telephone.
Meanwhile, the Lauri Mangmi who is also a deputy chairperson of the Dzongkhag Tshogdu says gup alone cannot decide the utilization of the fund since CDG is for all the local government members.
"According to rules and guidelines of CDG training to ex-countries are not allowed. But with all gups gone to Nepal for training and we don't know how they have done that," Tenzin, the Deputy Chairperson of DT, said.
The capacity development grant of Nu 150,000 to each gewog is funded by DLG.
Meanwhile, BBS contacted some of the gups through social media, they said they have routed the fund through proper channel.