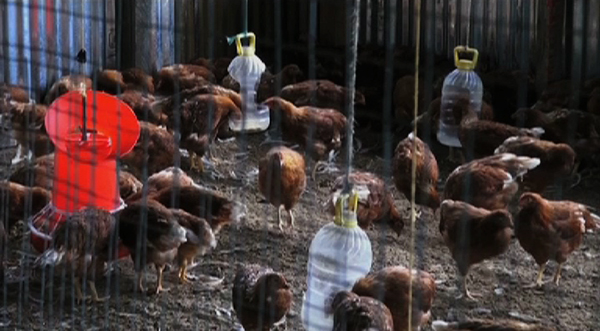 Poultry farming was once a lucrative business in Norgaygang Gewog in Samtse. But now with increasing poultry farms and operation costs, farmers say their profits have gone down. 
Khababgang Poultry Farm is the largest of its kind in Norgaygang Gewog with over 1,000 chickens.
When BBS visited the place Manna Gurung, the owner was counting the eggs laid by her chickens that morning. The morning count comes to about 14 trays of eggs or two full cardboard boxes.
Today, a boxful of eggs fetches her Nu 1,200 ngultrum, which is a decrease by Nu 500 compared to some months ago. This is a real worry for Manna Gurung.
"There are a lot of farms in other dzongkhags like Tsirang and Sarpang. We even have small farms here in the locality and in the other gewogs too. Thus the egg production has increased leading to a decrease in egg price. On the other hand, we heard there is a maize shortage at Karma Feeds leading to an increase in feed price."
Her profits have been slashed by close to Nu 30,000 in the past couple of months. She set up the farm with a loan from the Rural Enterprise Development Corporation Limited. Now, loan repayment has become a cause of concern.
Farmers say with the rising price of feed, raising the chickens is increasingly becoming a challenge. They said if they are not fed with good quality feed, then the quality of eggs gets compromised.
Another farmer, Bal Bhadhur, running smaller scale farm has similar concerns.
"Now, we are losing interest. We have children to feed. If our business runs into loss, we may suffer."
Competing with large-scale farms from other districts is not an option for the farmers here but a reduction of feed price is their hope even if the market price of eggs does not go up any time soon.
"It's difficult for us. The feed price and its transportation are expensive. If we bring 13 bags from Sibsu, we have to pay Nu 1,300 ngultrum and we have to pay Nu 100 as a transportation charge. That's why we are struggling," Bal Bahadhur said.
There are three other poultry farms in the gewog. One is just 20 days into its establishment. And for all of them, with a limited market to tap into at the moment, the future looks grim.