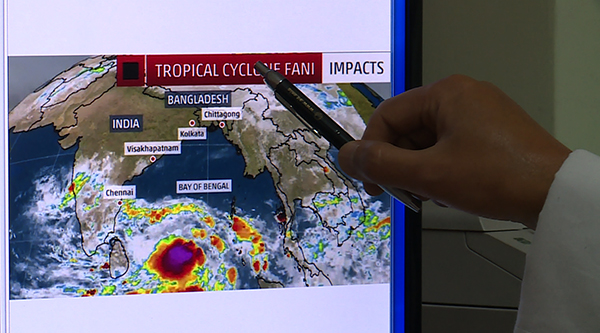 The eastern regions of the country, Samdrup Jongkhar, Monggar and Lhuentse received heavy rainfall yesterday, with reports of a flash flood in Lhuentse leading to speculations that it could be because of the cyclonic storm formed in the Indian ocean of Bay of Bengal.
However, the National Centre for Hydrology and Meteorology (NCHM) says this is not true. The rainfall around this time is called convective rainfall which is normal and occurs as the season changes from winter to summer.
Regarding the Cyclone Fani that has formed in the Bay of Bengal, it will have a very minimal impact in Bhutan.
"Bhutan being very far from the landfall area of Odihsa and West Bengal and also because we are far from the water bodies, we are not expecting a huge impact from this cyclone. However, because of the big size of the cyclone, we are expecting to receive the peripheral impact of this cyclone 4th or 5th May," Singay Dorji (PhD), the Chief of Weather and Climate Services Division of NCHM, said.
According to Indian media, parts of Eastern India and Bangladesh will experience major impacts because of the cyclone late this week.
In Bhutan, light to moderate rainfall is expected May 4 and 5. However, the southern and eastern regions will receive heavy rainfall for the next 72 hours. But NCHM says it is because of the change in wind direction during the transition period from winter to summer and is normal.