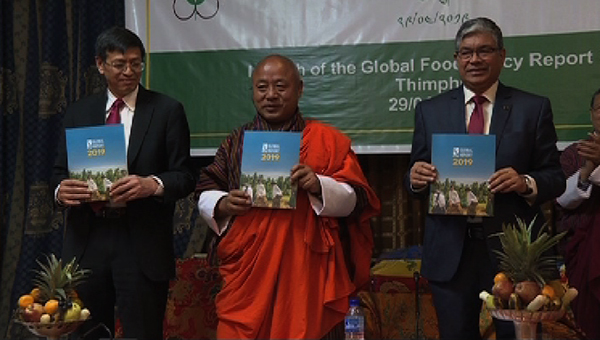 Although the country's Food and Nutrition Security Policy is in place, the agriculture ministry is faced with challenges of implementing the policy. This is due to the lack of research-based policy to ensure food security in the country.
But things might change for better after the launch of the Global Food Policy Report
The report will help Bhutan in ensuring food and nutrition security. The researched information in global food policy report 2019 will help agriculture ministry in improving the existing food and nutrition security policy.
The Agriculture and Forests Minister, Yeshey Penjor said, it is a challenge for every Bhutanese to counter issues such as human-wildlife conflict and water shortage among others.
"We can crosscheck whether our policies and activities that we are going ahead are in the right direction or not. The report is an international based document. So we can refer the document and translate that into Bhutanese context."
The global food policy report focuses on rural revitalization. This is because the report revealed that 821 million people are facing chronic food deprivations of which majority of them are in rural areas.
The report also states that land degradation, environment and air pollutions are most common in rural areas. Better access to health and education, nutrition and entertainment in rural areas are also the contributing factors for the rural crisis.
"Bhutan is a very good example where you have good food and environment and also hopefully good jobs. So many countries can learn from Bhutan. But challenges can also happen here in Bhutan. For example in nutrition aspects, you should make sure that food and agriculture production delivered is not just in quantity but also the quality," Shenggen Fan, the Director General of International Food Policy Research Institute, said.
 He added that agriculture research in Bhutan is poor compared to the neighbouring countries in South Asia.
The report recommends rural-urban linkages, empowering rural population including women and partnerships to achieve the country's ultimate goal of self-reliance.
The International Food Policy Research Institute will carry out research on Bhutanese agriculture policy in the future.