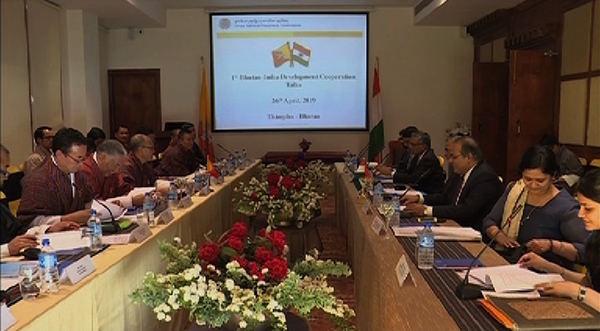 The First Bhutan-India Development Cooperation Talks for the 12th Five Year Plan finalised the Government of India's commitment of Nu 45bn in assistance.
During Prime Minister Dr Lotay Tshering's state visit to India in December last year, Prime Minister Modi had announced the Government of India would provide Nu 45bn for Bhutan's 12th Plan.
At the talk on April 26, the two sides discussed and finalised various components of the assistance and agreed on the breakup of Nu 45bn.
Nu 8.5bn for Program Grant, Nu 28bn for Project-tied Assistance and Nu 8.5bn for Small Development Project.
The project-tied assistance includes 31 new projects and 20 multi-plan projects initiated in the 11th Plan.
The delegation also reviewed the importance of the ongoing areas of cooperation and other proposals being taken up outside the Plan preview.
The Bhutanese side, led by the Foreign Secretary, expressed appreciation to the Indian Government for its generous support while the Indian delegation reiterated its commitment to supporting Bhutan's 12th Five Year Plan.
According to a news release from the foreign ministry, the talks were successfully held in a friendly atmosphere in keeping with the excellent ties of friendship that exists between the two countries.
The next development cooperation talk will be held in New Delhi.