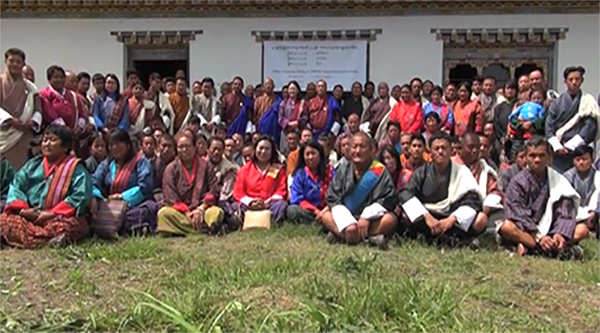 As a part of the Detailed Project Report (DPR) of Sankosh Hydropower Project approved by the Government of Bhutan and India in 2017, a team from relevant stakeholders met with the people of Dagana yesterday.
They met with the people of Tsirang today.
The public consultation meetings are held as per the clearance requirements of the National Environment Commission (NEC).
According to the finalized DPR, the main dam will be constructed at Karmaling Gewog while regulating dam will be constructed near the Lhamoidzingkha town.
Unlike other hydropower projects, the project will be a Reservoir Based Hydro Operation. The backflow of the river from the dam would travel back up to 45 kilometres till the Changchey Bridge in Tsirang.
The 2,585MW Sankosh Hydroelectric Project, which was estimated at around Nu 150bn would be the biggest hydroelectric project in the country and in the region.
"We can imagine the manpower, capital resources and expertise requirement. And all these have directly or indirectly contributed to taking a step-by-step approach in coming up with this Sankosh project," Ugyen, the Chief Engineer of Department of Hydropower and Power Systems, said.
" Right now, India's power secretary is in the country. He will be having discussions with the senior officials and the government. From our side, the implementation agreement draft is ready. Now it is up to the two governments if they want to take this project forward. We at the department of power are ready, fulfilling all these clearances."
Meanwhile, people looking forward to the project to begin soon so that they can reap the benefits.
"We met with officials several times and gave them our statements and agreements. We live in a remote place and we have acknowledged that we would give our land if it falls under projects map. I was told that a road would be constructed through my land and I am excited. I am planning to construct a house and open a shop, " Gangpa from Drujeygang, said.
"We heard about the project when we were small. But this time we are convinced that it is coming soon. And we are grateful and delighted. I am a shopkeeper and we are hoping for better business once the project begins," Sangay Lhamo said.
Government of India would be financing the project on a debt-equity ratio of 70: 30, which means 70 per cent of its total cost will be on loan and the rest would be a grant.
Once commissioned, the project is expected to generate over 6,000 million units of electricity annually. At a tariff of Nu 4.57, Bhutan would earn more than Nu 30bn in a year.