Bangladesh to send 24 medical doctors, specialists and sub-specialists to Bhutan
Kipchu, Dhaka

Apr 14, 2019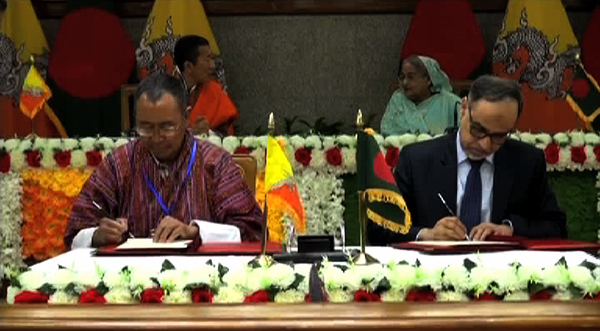 The Bangladeshi Health and Family Welfare will send medical doctors, specialists and sub-specialists to Bhutan to address the shortage of health workers in the country. To this effect, Bhutan's Health Ministry and the Bangladeshi Health and Family Welfare signed a Memorandum of Understanding (MoU)) in Dhaka yesterday.   
Bhutan's Health Secretary, Dr Ugen Dophu and his Bangladeshi counterpart signed the document at the Office of the Bangladeshi Prime Minister.
Bangladesh will send 20 specialist and 4 sub-specialists to Bhutan soon after the cabinet approves the team's pay package. They will work at the Jigme Dorji Wangchuck National Referral Hospital (JDWNRH), Monggar Regional Referral Hospital (MRRH), Gelephu Central Regional Referral Hospital (GCRRH) and some other district hospitals as well.
The proposed salary for the specialists is about Nu 345,000 and about Nu 311,000 for the sub-specialists. They will work in Bhutan on a contract basis.
Meanwhile, a standard operating procedure was also adopted for the MoU on the use of inland waterways for transportation of bilateral trade and transit cargoes. This will ease the commercial operation of vessels travelling between the two countries.
Other MoUs were also signed to cooperate in the field of public administration, tourism and agriculture.
Prime Minister Dr Lotay Tshering, who is in Dhaka on a four-day official visit to Bangladesh also met with the Bangladeshi Health and Family Welfare Minister and the Minister for Shipping.