KMMU provides medical services in Dagana
Namgay Wangchuk, Dagana

Mar 14, 2019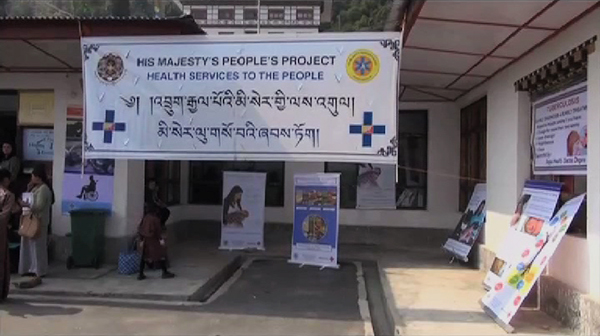 The Kidu Mobile Medical Unit (KMMU) is in Dagana providing medical services to the people. The medical camp will be providing extensive medical services from Daga Basic Health Unit (BHU), Dagapela hospital and Drujeygang BHU in Dagana for three days each.
The medical camp, which began on March 12, saw nearly 500 people visit the Daga BHU to avail themselves of the medical services on the first day.
The overwhelming turnout is because the district hospital is located far away. Usually, people of Daga town and nearby gewogs have to drive over 40 kilometres to Dagapela district hospital.
"Our BHU is small and there is only one doctor. Moreover, major surgeries are not done here so we have to go to Dagapela, which takes almost a day. We have to pay Nu 600 ngultrum for taxi fare and it is also not easy to get vehicles," Gopal Sherpa from Daga town, said.
  "For endoscopy, ultrasound and other services, we have to go to Dagapela or Thimphu," Kencho Wangmo, also from Daga Town, said.
 "I am suffering from bad throat pain. We were told that His Majesty's KMMU is coming to Dagana to provide the services. So we are taking this opportunity," Tandin from Tseza Gewog, said.
His Majesty's Kidu Mobile Medical Unit, initiated in 2009 upon Royal Command, give access to specialized healthcare to people who live far from the capital.
"In the past, we came across one or two cases of HIV. We detected cancer patients, who are now getting treatment. That's why this is one of the special initiatives of His Majesty to provide medical services to the people at their doorsteps. Our focus is BHU based that are located in the far-flung areas," Dr Phurb Dorji, the Head of the KMMU, said.
Taking advantage of the huge gathering, people were also briefed on non-communicable diseases which are by far the leading cause of death in the world.