Veterinarians attend training in ultrasonography and radiology
Sonam Choden, Thimphu

Mar 14, 2019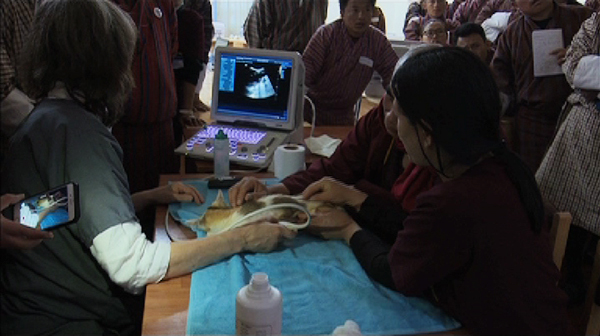 The veterinarians in the country will now be able to provide better diagnostic services to animals. Nearly 30 veterinary doctors attended five-day training on Ultrasonography and Radiology in Thimphu.  
A pet cat, Chocham was the first animal in Bhutan to receive an ultrasound scan. She was brought to the National Veterinary Hospital by her owner. The cat has been sick for the last two weeks.
Radio imaging expert, Dr Nicolette, who is in the country to conduct the training, carried out the ultrasound scan.
An ultrasound scan revealed that Chocham has fluids in her chest that is causing breathing problem and gets treated.
"As a field practitioner, I was really handicapped without Ultrasound and X-Ray machine. Till now we have been doing empirical and symptomatic treatment, " Dr Tenzin Wangchuk, the senior veterinary officer of Paro, said.
"This will ultimately work towards the animal welfare. We will be able to provide services that are professional and helpful to the animals," Dr Meena Devi Samal, the Senior  Veterinary Officer of Thimphu, said.
There are five ultrasound and two x-ray machines which were unused till now. Lack of adequate knowledge on the use of this equipment hampered early diagnostic and providing timely treatment.
"Sometimes, it is difficult to diagnosis without the help of ultrasound or x-ray. With ultrasound, we can obtain the images from inside the body and diagnose the disease," Dr Kinley Dorji, the Head of National Veterinary Hospital, said.
The specialised training is expected to enhance the diagnostic capacity of the animal doctors and meet service demand, particularly of pet lovers.