Locals in Radhi say there is no market for bamboo
Tshering Zam, Trashigang

Mar 14, 2019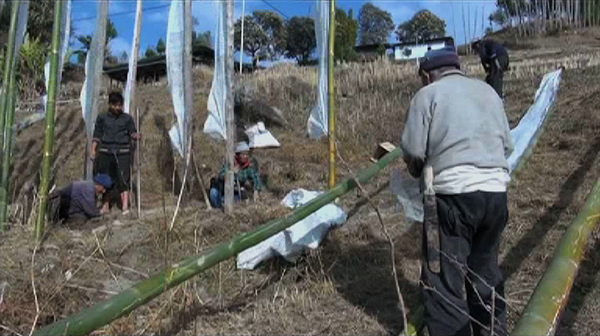 The demand for bamboo from Radhi Gewog in Trashigang has been dwindling over the years. Once considered a major source of income for locals, but now farmers use it for their own domestic purposes.
People mostly use bamboo to hoist prayer flags, for fencing while the dry ones are used as firewood. But three to four years back, people say they were earning a good income from selling bamboos.
"In the past, the government provided us incentives for planting bamboo to combat land degradation. We were given Nu 10 for planting a sapling. Earlier, bamboo poles were in high demand with construction activities in the dzongkhag. We used to supply to Kanglung, Wamrong, and Trashi Yangtse as well. Now it has been over 3 years without any buyers," Sonam Penjor said.
"Without demand for bamboo poles, we were not able to plant new bamboo saplings too. We are now using the remaining bamboos as firewood while the good ones are used for prayer flags," Lhazom said.
Meanwhile, gewog officials say they have not heard of any such issue from the locals. Some of the farmers attribute the decrease in demand to having only a few constructions in the dzongkhag. But some of the growers who have been able to find buyers for their bamboo are selling at a Nu 100 per bamboo pole.
"I have seen people selling around 3-4 truckloads of bamboo in a year. If any project or industries are established here, Radhi gewog can supply a minimum of about 15 truckloads and maximum 20 truckloads. Every household in the gewog has cultivated bamboos, but there is no market," Kulung, the Radhi Gup, said.
"We are planting more bamboos every year as we can see a promising future market. Likewise, if the government could help us bamboo marketing and how it is done in other countries, it will benefit us."
Plantation of bamboo in Radhi started around 15 years ago to combat land degradation.