Bhutan receives Green Destinations Gold Award
Sonam Choden,Thimphu

Mar 11, 2019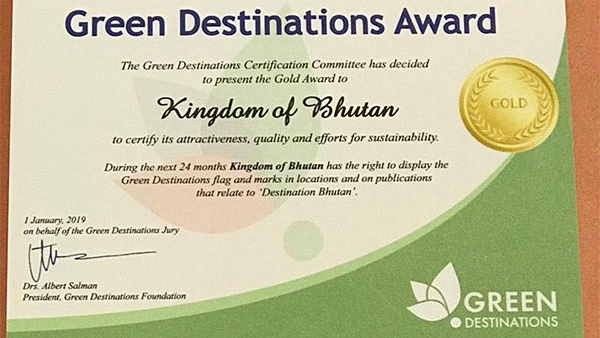 Bhutan is presented Green Destinations Gold Award by the ITB Berlin in Germany recently. The award is in recognition of Bhutan's consistent effort in preserving its rich culture and traditions, environment and social well-being among others.
Scoring over 90 per cent from 100 sustainable indicators under six themes for the award the Tourism Council of Bhutan (TCB) bagged the Gold award. It is the third category of the total four awards of bronze, silver, gold and platinum.
The council submitted evidence and supporting documents of the country's progression towards the sustainability of all those areas mentioned under the six themes. The online information was then verified by the external auditor from Berlin. The country was awarded gold based on the auditor's rating to the jury members.
"The six themes touch not just environment but some other aspects such as how do we take care of our own people, how does tourism support Bhutan in terms of doing business, How do we as a country promote our culture and environment. That is a very large scale assessment of our country," Damcho Rinzin, the media spokesperson of TCB, said.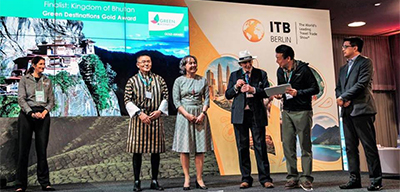 "We wanted to apply for the award because it is very much in line with our Gross National Happiness philosophy."
With this award, Bhutan is reflected as the green destination in the world map. The award will help the TCB to certify and recognize some of the tourism entrepreneurs as a green entrepreneur.
"We are grateful to His Majesty The King, His Majesty The Fourth Druk Gyalpo and our Wangchuck dynasty for taking Bhutan to this point. I think everybody is proud of this award," Damcho Rinzin said.
The six themes for the gold award include Destination Management, Nature and Scenery, Environment, Culture and Tradition, Social well-being and Business and hospitality.
Bhutan received World's Sustainable Destinations' Award last year. The award is in recognition of Bhutan's commitment toward responsible tourism and its approach to tourism development and management.