Drukair celebrates International Women's Day by operating all-female crew flight
Sangay Chezom, Paro

Mar 8, 2019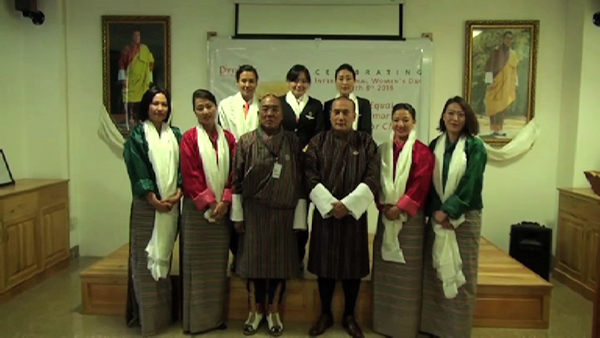 To celebrate the International Women's Day, the national airlines, Drukair operated its first ever all-female crew flight from Paro to Bangkok via Bagdora today. It is for the first time in the history of Bhutan's aviation industry, a flight has been handled by the all-female crew from the captain, first officer, engineer, cabin crew, push back team to other ground staff.
The flight KB130 has 89 passengers on board.
The day also marks 108 years after Elise Raymonde Derochoe the first woman in the world to receive a pilot's license.
Drukair had three female cockpit crew for its first female operated flight this afternoon.
"We now have first licensed female flight engineer, Sonam Deki.  She is flying with us today. And very soon we will be having our senior first officer Sonam Lhamo, starting her command training as well. So I think nothing speaks progress more than exemplifying it," Ugyen Dema, the First Female Captain of Drukair, said.
"This flight today exemplifies the theme of this year international women's day balance for better. We belong everywhere. We are part of the change and we are part of the innovation."
The first female licensed aircraft engineer, Sonam Deki Tshering said, "globally the renowned airlines are too doing it recently. So, for a company like Drukair, when we are able to produce a whole female set crew, that's a great honour to be a part of the team."
She said as a female in the aviation industry, people appreciate them working in a male-dominated industry.
"I have neither received any special treatment nor have there been any discrimination. We are recognized for our hard work, for our input and for our dedicated service."
Through the initiative, Drukair hopes to inspire more women to get into the aviation industry.
"Flying in the aviation seen as a very high level of expertise, when women can match up to men and fly in a place like Paro which is one of the most difficult and demanding airports in the world, we need to appreciate them," Captain Chimi Dorji, the manager of crew training, said.
Today, Drukair employs 168 women who constitute 35.44 per cent of its total workforce.