New waterbird species spotted in the country
Phub Gyem, Thimphu

Mar 8, 2019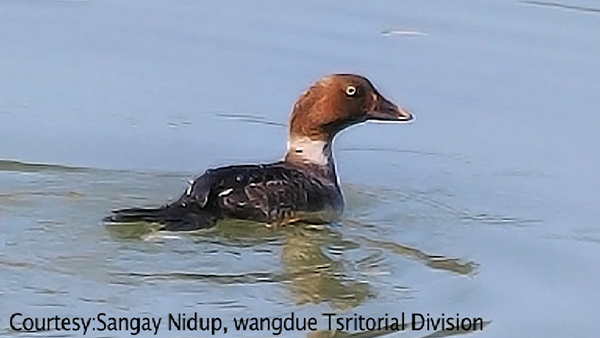 Common Golden Eye, a new waterbird species was spotted in the country on January 5 this year. Bhutan now has 81 waterbird species as per the annual waterbird census carried out on January 21.  
The lone female Common Golden Eye was sighted along Punatsangchhu at Bajo in Wangdue Phodrang. It was first spotted by Sangay Nidup, a forester at the Wangdue territorial division.
The bird with prominent golden eyes, measures around 50 cm in height and weighs about 900 gms and is categorised as least concern with no sign of decline in its population.
The bird is usually found in Canada, Northern Europe, and Siberian Plains in Russia and is rarely sighted in the Indian Subcontinent.
The chief research officer with Ugyen Wangchuck Institute for Conservation and Environmental Research (UWICER) Sherub said such sighting is an indication of the country's sound conservation policies and well-protected habitats for a diverse species of flora and fauna. It also means that Bhutan is a safe haven for migratory birds.
The annual waterbird census saw a maximum number of waterbirds along Punatsangchhu with more than 60 species.
The annual census was carried out along Thimchhu, Paachhu, Punatsangchhu, Mangdechhu, Chamkharchhu, Drangmechhu, Kulongchhu, Jomochhu, Neyra Amachhu, Maochhu, Amochhu, Puglichhu and Haachhu, and along natural wetlands of Phobjikha and Khotokha.
The annual census record shows Ruddy Shelduck is the most common waterbird in the country. Bhutan has as many as 1,800 Ruddy shelduck, mostly along Punatsangchhu.
UWICER carries out waterbird census every year to obtain information on the population of waterbirds along country's rivers and wetlands.
The information serves as a basis for evaluation of sites and monitoring population.
Waterbirds are believed to contribute to nutrient recycling, maintenance of fresh water eco-system, help in seed dispersal at the continental scale and provide provisionings such as meat, feathers and eggs. Besides, the species is also found to be of aesthetic value and a source of tourist attraction.