Teachers integrate climate change education into lesson plans
Sherub Dorji, Thimphu

Feb 18, 2019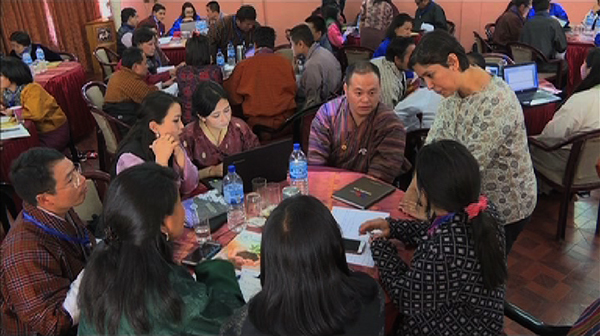 A geography teacher talking with students about flooding, it is during such discussion when a teacher can bring in climate change education into a classroom by relating how climate change and its consequences can cause more flooding.
This is exactly what the two-day workshop titled "climate across curriculum" explored.
Over 60 teachers from schools across Thimphu attended the workshop to improve awareness about climate change and the science behind it among students.
According to Dr Raju Sarkar, head and coordinator of Center for Disaster Risk Reduction and Community Development Studies (CDRR and CDS) based at the College of Science and Technology (CST), the lesson plans developed at the workshop will be made available for all teachers.
"We are targeting school teachers from physics, chemistry, mathematics, biology, social science, and related to natural resources."
Participants developed teaching aids for teachers at the high school and undergraduate levels. They were also introduced to digital teaching resources integrated with climate change studies.
It is aimed at using innovative teaching practices in the classroom to teach different topics using climate-related examples, case studies and activities.
This is a first of its kind workshop in the country and third across the globe.
"I was never in view that climate change can be integrated with mathematics education. The workshop was an eye-opener and lessons will help students keep abreast with climate change, "Tshering Norbu, a mathematics teacher with Khasardapchu Middle Secondary School, said.
A senior lecturer with the CST, Karma Kelzang Euden, said it is easier to discuss climate change with engineering students since they already have modules on renewable energy and electronic wastes.  
"We all know that these parameters are one of the major factors that contribute to environmental degradation which results in climate change."
Though resources developed at the workshop are based on local context, it can be accessed by teachers across the globe.
"Our project itself is one where we aim to give access to knowledge to people across the world, especially to educators. We all know that climate change is a very important topic of our times and we want teachers to teach this particular topic," Dr Rahul Chopra, project coordinator with the Trans-disciplinary Research Oriented Pedagogy for Improving Climate Studies and Understanding (TROP ICSU), said
He added their aim is to talk about climate change using digital technologies and ICT based tools to enable easy dissemination.    
The TROP ICSU in collaboration with CDRR and CDS organised the workshop.
The centre at CST also plans to reach out to primary school students about climate change topics using fun board games and other techniques.