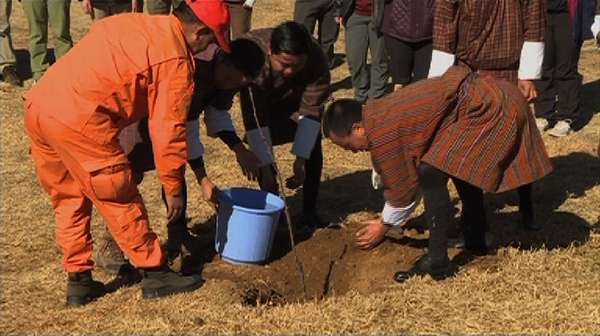 Bhutan Ecological Society (BES) has begun an initiative to plant fruit trees in open green spaces across major urban centres in the country. The 'Fruits for All' project is initiated to add functional and ecological value to green open spaces.
Starting the initiative, BES planted around 80 fruit trees in open spaces in Thimphu yesterday.
Through the project, it aims to engage children and people in planting, conserving and maintaining such spaces. It is also to encourage people to appreciate nature and provide urban residents with access to fruit trees.
BES will take the lead to ensure fruit trees are nurtured and protected.
"We have fenced the area to keep away the cattle. And we have our staff and interns who will be taking care of the fruit trees," Kencho Tshering, the Project Manager, said.
Planting fruit trees is an initiative that is expected to fully utilize and improve the green open spaces. Green spaces are areas of grass, trees or other vegetation set apart for recreational purposes in the urban environment. It helps filter pollutants and dust from the air, provides shade and lower temperatures.
BES has identified Paro, Punakha and Wangdue Phodrang for the project.