Government doing away with Class X cut-off point a concern says Opposition
Kinley Dem & Sonam Choden, Thimphu

Feb 1, 2019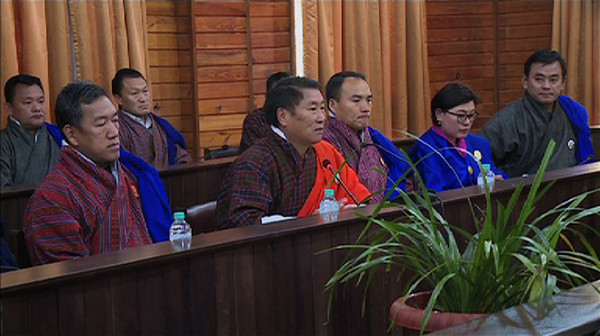 Besides compromising the quality of education, doing away with the cut-off point for class 10 could prove to be a huge financial burden to the government's exchequer says the Opposition Party. At the press conference held yesterday, the Opposition said without budget allocated for this purpose in the 12th Five Year Plan, the move is a big concern.
A total of 12,033 students passed class X Bhutan Certificate of Secondary Examination (BCSE) 2018. Of which government says they will provide scholarships to 4,225 class X passed students to study in private schools.
The Opposition said more than  Nu 1.3bn will be incurred to enroll students in private schools. They said Bhutan is one of the least developed countries and should focus on infrastructure and capital development.
The members of the Opposition also expressed their concerns over compromising the quality of education.
"The education quality in Bhutan is in its improving stage. And now with the government doing away with the cut-off point for class X, as a parent, the greatest concern is it might affect the quality of education. If there is no cut-off point then students will lose interest to study hard," Choki Gyeltshen, Maenbi_Tsaenkhar MP, said.
He also shared concerns about the private schools' acceptance of those students who did not qualify for class XI.
"This time, students scoring 59.4 per cent and above will be absorbed in government schools. For those scoring below this mark with pass certificate, the government will enroll them in private schools. I personally feel that this group of students should also be enrolled in government schools if there is no cut-off point," MP Choki Gyeltshen said.
During the press meeting, the Opposition Party also pointed out that the government lacks clarity and direction of vision and ambition in the 12th five-year-plan.
They said the targets are conservative and most of their popular pledges have not been budgeted in the plan.