Japan donates medical equipment to JDWNRH
Phub Gyem, Thimphu

Jan 31, 2019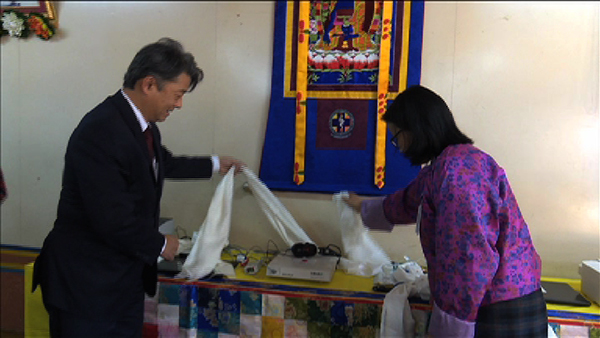 The Jigme Dorji Wangchuck National Referral Hospital (JDWNRH) received medical equipment to enhance early detection of hearing impairment and sleep apnea-a sleep disorder from the Japanese government today.
The medical equipment, the audio brain-stem response will help early detection of hearing impairment.
Hearing impairment is found common among people living with disabilities in Bhutan for which early detection has been a challenge in the absence of appropriate equipment.
 "JDWNRH is the only hospital that has specialised ENT treatment facilities in the country. Therefore, patients from all over the country come here for treatment. I have heard that with the number of patients increasing, the hospital has not been able to provide quality examination and proper treatment to patients due to lack of necessary equipment," Kenko Sone,  the Minister for Economic and Development, Embassy of Japan in India, said.
The other polysomnography medical equipment will help to treat sleep apnea, a serious sleep disorder that occurs when a person's breathing is interrupted during sleep.
People with untreated sleep apnea stop breathing during sleep resulting in an inadequate supply of oxygen to the brain and rest of the body.
Japanese government donated the medical equipment under their Grant Assistance for Grassroots Human Security Projects.
Bhutan received numerous support under this scheme for construction of bridges, school hostels, and supply of fire and compactor trucks.
The project also supported the construction of a subtropical horticulture centre in Zhemgang last year.