Bhutan ranks 25th in 2018 corruption perception index
Sonam Choden, Thimphu

Jan 30, 2019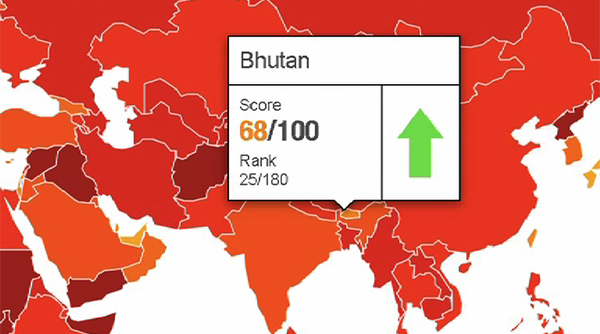 Bhutan is the 25th least corrupt nation out of 180 countries, according to the Transparency International's 2018 Corruption Perception Index (CPI). Bhutan was ranked 26th in 2017.
The Transparency International is an international Civil Society Organization (CSO) based in Berlin, Germany. It released the 2018 CPI yesterday.
The index ranks 180 countries and territories by their perceived levels of public sector corruption according to experts and business people. It uses a scale of 0 to 10, where 0 is highly corrupt and 100 is very clean.
While Bhutan scored 68 points, more than two-thirds of countries score below 50 on this year's CPI, with an average score of just 43.
The Transparency International says while there are exceptions, the data shows that despite some progress, most countries are failing to make serious inroads against corruption.
It adds that continued failure of most countries to significantly control corruption is contributing to a crisis in democracy across the world.
Western Europe and European Union (EU) countries are among the highest scoring region with an average score of 66 points.
The lowest scoring region is Sub-Saharan Africa with an average score of 32.
Denmark and New Zealand top the Index with 88 and 87 points respectively. Somalia, South Sudan, and Syria are at the bottom of the index.