UN to invest US$ 120 M for UNSDPF outcome areas
Phub Gyem, Thimphu

Jan 30, 2019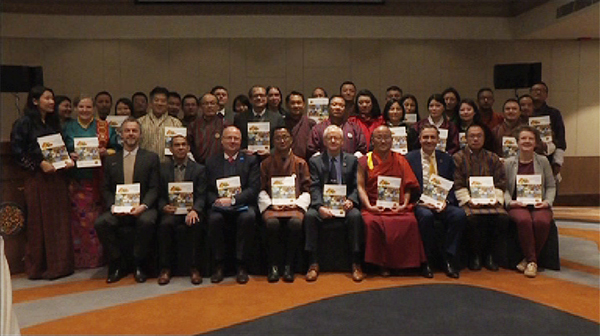 Enhancing access to reliable and timely data, improving social services for vulnerable groups, inclusive governance and climate change and disaster risk reduction are the United Nations  Sustainable Development Partnership Framework (UNSDPF) four outcome areas for Bhutan in the next five-year.
Their efforts in these areas will help ensure a smooth transition as Bhutan graduates from the category of Least Developed Country (LDC) to a Lower-Middle Income Country. The United Nations is ready to mobilize and invest US$ 120 M to achieve results in these four areas.
Efforts in the area of Data and Policy would ensure enhanced access to and use of reliable and timely data for inclusive policy and decision making. The United Nations Populations Fund (UNFPA) will work together with the National Statistics Bureau (NSB) to strengthen national statistical systems. There is a budget allocation of US$ 5.26 M for this area.
"Even in the 11th mid-term review, this was one of the issues which were raised that there was not enough data to really measure the success of the development efforts that the government has put in. Based on this I think UNSDPF has taken this as a major effort to prioritize this and then put it as an outcome area for the new cycle," Yeshey Dorji, UNFPA's Assistant Representative, said.  
In the area of social services, they will ensure that vulnerable and unreached people have access to quality health, nutrition, protection, education, water, sanitation and hygiene. A budget of US$ 34.82 M allocated for this.
The UN will also work on inclusive governance to ensure poor and vulnerable groups enjoy the full benefits of development. Under this area, there will be support in achieving gender equality in elective offices, promoting women's participation at decision-making levels and enhance the delivery of justice services, particularly for vulnerable groups.
Of the four focus areas, Climate Change and Disaster Risk Reduction is allocated the highest budget at US$ 71 M.
"The area of climate change and disaster risk reduction is a top priority for Bhutan, and it also meets the global opportunity to attract green climate financing as we know climate change is one of the top issues of our generation," Jeurgen Nagler, the UNDP's Resident Representative Acting In Charge, said.
"Bhutan is well positioned with its forest cover. It's not really contributing to climate change. However, the industrialised, rich countries are increasingly more aware that they have to finance climate adaptation in countries which are negatively affected. In Bhutan we already see that weather patterns are changing, glacial are melting too fast, therefore, we have increased the risk for flash floods and landslides."
The focus under the area of Climate Change and Disaster Risk Reduction is on progress towards a climate-resilient, green and job-rich economy that will help reduce poverty. It will ensure that by 2023 Bhutan's communities and economy are more resilient to climate-induced and other disasters and biodiversity loss as well as economic vulnerability.
Over the next five-year, the United Nations and its resident agencies will work in close consultation with the government to support Bhutan realize its goal of "A Just, harmonious and sustainable Bhutan where no one is left behind."
UN will also extend its support to work on the 14 government identified socio-economically vulnerable groups such as children in conflict with the law, elderly in need of support, female working at Drayangs, persons with disabilities and orphans among others.
"We will listen to our counterparts in Bhutanese government and also our counterparts in the CSO so that we will be able to improve the way we are implementing our works. At the end of the day,y it's not about formulating a well-written document, it's about the implementation of that five-year plan from the United Nations "Gerald Daly, the Resident Coordinator of the UN to Bhutan, said,
UNSDPF for the next five-year has an increased budget allocation of 40 per cent compared to the previous cycle.