Three new lams and Yarzhu Umze appointed
Komal Kharka, Punakha

Jan 28, 2019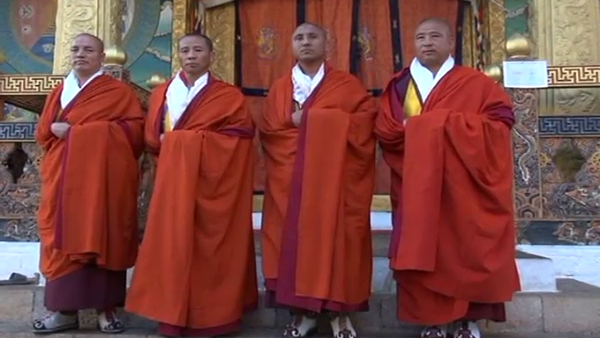 The Dorji Lopen of the Central Monastic Body conferred dhar to three new lams and Yarzhu Umze in Punakha Dzong today.
54-year-old Pelzang from Wangdue Phodrang was appointed as the new lam of the Jigme Dorji Wangchuck National Referral Hospital (JDWNRH). Prior to his appointment, he served as the Kanzip of Punakha Dratshang.
Lhawang Gyeltshen, 46, is the new lam of Chezhe Goenpa in Thimphu. He was serving as the meditation teacher of the Goenpa before his current appointment.
The new lam of Haa Sombeykha Lhakhang is the 49-year-old Tshering Nidup from Haa. He was formerly the lopen of Luntsho Trashigang Goenpa in Thimphu.
Sangay Jamtsho, 38, from Haa was appointed as the Yarzhu Umze for  Punthim Dratshang. He was serving as the Kudrung Paro in Punthimp Dratshang before assuming the current post.