Remote Lauri Gewog gets 3G
Kinley Wangchuk, Samdrup Jongkhar

Jan 10, 2019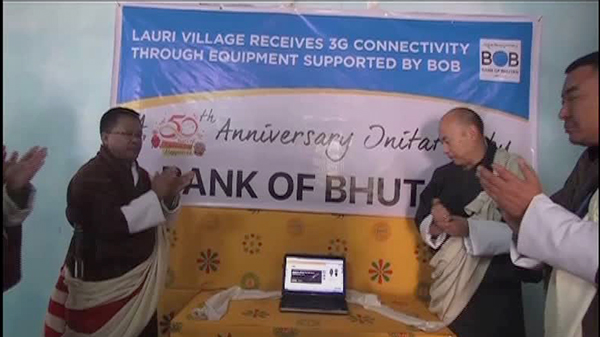 Lauri Gewog, one of the most remote gewogs in Samdrup Jongkhar, now has 3G connectivity. The service was launched last week much to the delight of the people in the gewog. 
The Bank of Bhutan (BoB) contributed Nu 1.5 M to the Bhutan Telecom for the purchase of 3G equipment for the gewog. The Bhutan Telecom invested Nu 1.8 M.
The BoB extended its support as a part of the bank's golden jubilee celebrations. Lauri was selected since it is one of the most remote, underdeveloped gewogs.
The bank says the initiative was aimed at enabling easy access to banking services for the the people of the remote community.
They can now easily avail banking services, such as cash deposit and withdrawal, fund transfer, loan repayment, and mobile recharge, through the BoB Connect Agents in the gewog.
Earlier, the villagers travelled to Jomotshangkha, 60 kilometres away, to avail themselves of banking services. While there was 2G, availing banking services was not easy as the internet speed was painfully slow.
Sonam Cheki is a BoB Connect Agent in Lauri Gewog.
"Earlier, I used to keep cash and account number of clients and avail banking services at night because 2G is faster around night time. Now, with 3G, I can provide banking services to the people anytime," she said.
"With 3G, we can now connect with friends and family members in Samdrup Jongkhar and Jomotshangkha. We are happy and grateful for the service," Tshewang Dorji from Lauri said.
"With 3G, we can install MBoB app and avail online banking services. We don't have to go all the way to Jomotshangkha just to withdraw money," Sangay Tenzin said.
Lauri Gewog is about 250 kilometres from Samdrup Jongkhar. With five chiwogs, the gewog is home to about 545 households.