Bridge to ease lives of people of Gakiling in Haa
Sangay Chezom, Haa

Jan 10, 2019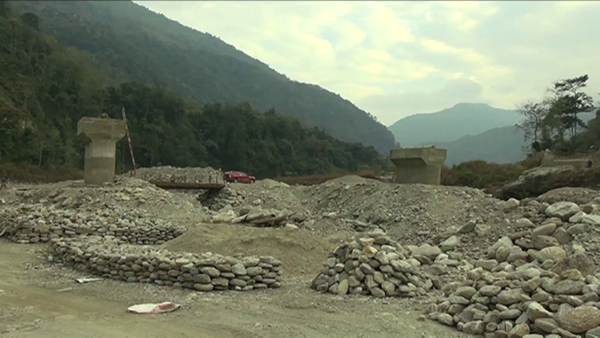 Gakiling Gewog in Haa has access to road but it often remains cut off during monsoon. This is mainly due to the lack of a motorable bridge over Amocchu.
The people have been using a temporary bridge. The suspension bridge is their lifeline. It connects the gewog with the rest of Haa district.
However, the bridge gets washed away by the swollen Amochhu in summer.
This is not going to happen from this summer though. A motorable bridge is being built over the river.
The construction of the bridge began in November 2017. It is expected to be ready by the end of this month.
"We receive a lot of rain in summer. The river swells and washes away the temporary bridge. So, we had to use our labourers to transport the construction materials to the other side of the river. This hampered our work progress," Chencho Tshering of M/S Tacho Construction Private Limited said.
Life's been hard for the people of Gakiling in the absence of a proper bridge.
"Shopkeepers charge exorbitant prices in summer. What costs Nu 1500 would be priced Nu 2500. We really need the bridge," Phub Rinchen from Rangtse said.
"The temporary bridge benefits us in winter. But when summer comes, it gets washed away," Mindu, also from Rangtse, said.
"If we are to go to Samtse, we have to keep our vehicles on one side of the river and hire another from the other side. The affair is pretty expensive."
"We have to carry everything across and look for a vehicle from Sangaybaykha to travel to Haa," Gakiling Gup Gashey said.
The 113-metre long bridge is being constructed at a cost of Nu 24.1 M.