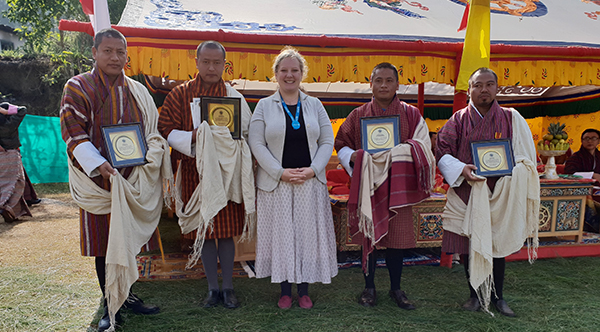 As Bhutan observed the World Toilet Day today, an additional 41 gewogs in nine dzongkhags were recognized for achieving the status of Open Defecation Free (ODF) and 100 per cent improved sanitation coverage.
This takes the total number of gewogs with ODF status and 100 per cent improved sanitation coverage in the country to 80 gewogs.
Local leaders from Samdrup Jongkhar, Lhuntse, Trashigang, Pema Gatshel, Trashi Yangtse, Wangdue Phodrang, Trongsa, Samtse and Tsirang districts received certificates of achievement at the World Toilet Day celebrations in Doonglagang, Tsirang.
Sanitation is a global development priority. The United Nations General Assembly officially designated November 19 as World Toilet Day in 2013.
The World Toilet Day theme for this year is "When Nature Calls, Take Action".
The day draws attention to the dire global sanitation problem and inspires action to the problem across the world.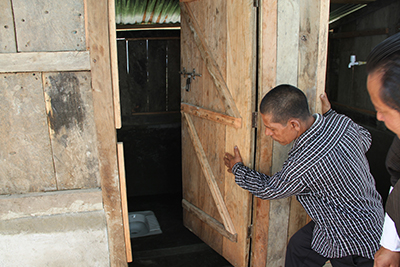 According to the United Nations, 2.5 billion people around the world do not have access to decent sanitation. More than a billion people are forced to defecate in the open, risking diseases and other dangers.
Children, especially, get sick by coming into contact with human excreta within their communities through open defecation, flooded latrines and untreated wastewater.
Providing sanitation has been estimated to lower the odds of children suffering from diarrhea from 7 per cent to 17 per cent, and under-five deaths from 5 per cent to 20 per cent.
Health Secretary, Dr. Ugen Dophu, said that 41 Gewogs achieving 100 per cent toilet coverage this year with no material subsidy from the government and only through community engagement approach are commendable.
"Never in the past have we witnessed such accomplishment," he said. "I want to acknowledge the support rendered to Ministry of Health, local leaders, health workers and partners such as UNICEF and SNV."
At the World Toilet Day celebrations in Tsirang, three critical documents were launched. These are the Knowledge, Attitude, and Practice (KAP) Study on handwashing among school children and KAP study on menstrual hygiene management in schools and nunneries.
"Much progress has been made but we must all continue to work towards ensuring that every child and every household has access to improved toilets and hygienic practices," Beate Dastel, the Deputy Representative of UNICEF Bhutan, said.
Recognising the importance of sanitation and hygiene in reducing the overall disease burden, the Ministry of Health initiated the Rural Sanitation and Hygiene Programme (RSAHP) in 2008.
RSAHP is a subsidy free and demand driven community-led approach to total sanitation in rural communities. The programme is successfully completed in Lhuentse, Pema Gatshel, Monggar, Samdrup Jongkhar, Wangdue Phodrang, Trongsa and Samtse districts with resounding results.
"SNV has been evermore inspired to collaborate in implementing the Rural Sanitation and Hygiene Programme in Bhutan owing to Ministry of Health PHED's high-level commitment in taking the programme forward with sustainable and inclusive WASH approaches," SNV programme manager for WASH, Ugyen Rinzin, said.
"Furthermore, it is also due to significant achievements in the field with many gewogs achieving 100 per cent improved sanitation through motivated health workers and supportive local government authorities."
Currently, RSAHP is implemented in Tsirang and Sarpang dzongkhags with support from UNICEF, and in Trashigang with support from SNV under Australia DFAT CS WASH fund. This means the programme is in 11 dzongkhags, with nine remaining to be covered in the coming years.
Health Ministry officials said that the Bhutanese government  will continue to work together with UNICEF and SNV, and other partners to ensure that every household in rural communities have access to safe sanitation, health and hygiene, especially for the children of Bhutan.