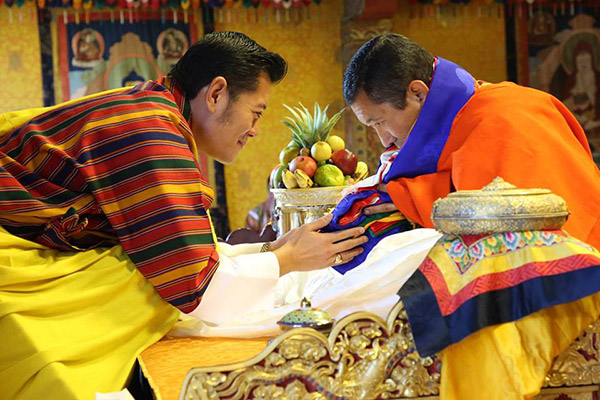 His Majesty The King conferred Dakyen to Dr Lotay Tshering, officially making him the new Prime Minister of Bhutan's third democratically elected government at the Tashichhodzong today.
His Majesty also formally appointed the cabinet ministers of the DNT-led new government and granted Orange Kabney to Speaker Wangchuk Namgay and the Leader of the Opposition, Dr Pema Gyamtsho.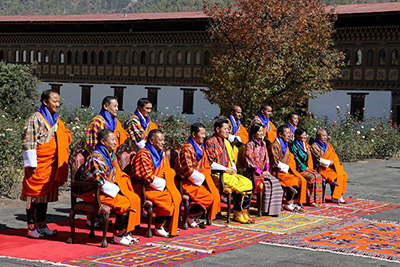 While the Speaker and the Opposition Leader are not accorded Orange Kabney by the Constitution, His Majesty may award such kabneys in the exercise of His Majesty's royal prerogatives.
His Majesty issued a Royal Kasho on 29th of last month appointing Dr Lotay Tshering as the new Prime Minister following the DNT's 30-seat win in the October 18 general election. Dr Lotay Tshering headed His Majesty's Kidu Medical Unit since 2014.
63-year-old Dasho Sherub Gyeltshen from Monggar is now home and cultural affairs minister. Dasho Sherub Gyeltshen previously served as the Secretary of the Dzongkha Development Commission (DDC).
The founding member of the Druk Nyamrup Tshogpa, Dr Tandi Dorji, from Lingmukha_Toedwang is the foreign affairs minister. He was a Consultant Paediatrician, a Public Health Researcher and a Technical Advisor prior to becoming a politician.
A former parliamentarian Karma Donnen Wangdi from Gelegphu is the information and communications minister. He served as a Member of Parliament in the National Council from 2008 till 2013.
The education minister is Jai Bir Rai from Phuentshogling in Chhukha. He was a CEO and a Chief Consultant to a private company before he became a politician.
Dechen Wangmo, the lone female minister, is the health minister. She was an Independent Public Health and Social Development Consultant.
Yeshey Penjor from Nubi_Tangsibji in Trongsa is the agriculture and forests minister. He was formerly the Project Director of the Green Public Procurement Project.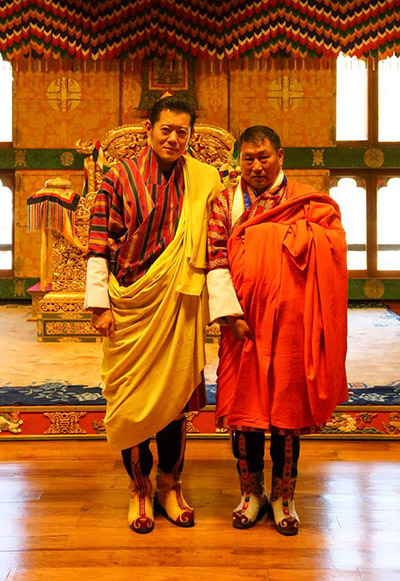 The works and human settlement minister is Dorji Tshering from Radhi_Sakteng in Trashigang. He had worked as an Executive Engineer and Deputy Executive Engineer with the same ministry for seven years.
A former Community Service Worker, Loknath Sharma from Dophuchen_Tading in Samtse, is the economic affairs minister. He had also served as a Regional Head of Road Safety and Transport Authority (RSTA) for ten years.
Namgay Tshering from Dokar_Sharpa in Paro is finance minister. He resigned as a Program Manager with the Health ministry to become a politician. He had also served as Project Coordinator of a World Bank and Global Fund project.
And the youngest of among them all- Ugyen Dorji,32, from Thrimshing_Kangpara, is sworn in as the labour and human resource minister. He was Desk Officer with foreign affairs ministry until he became a politician.
Led by the prime minister, the cabinet ministers took Oath of Allegiance in the Cabinet Hall.