Arekha students open bank accounts under youth banking programme
Sonam Penjor, Chhukha

Nov 2, 2018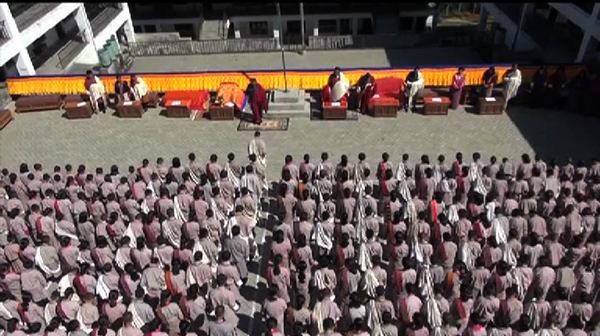 The students of Arekha Middle Secondary School in Darla Gewog, Chhukha has bank accounts. They opened the accounts under the Royal Monetary Authority's (RMA) Youth Ethics Banking Incentives Programme.
Under the programme, students will be awarded with dummy bank notes for their achievements in academics, sports, literary and other educational activities in the school.
The dummy bank notes are pegged with bank points. Each bank point currently has a value of two ngultrum.
Teachers monitor and keep record of the points. The total earnings and points will be disclosed at the end of the year.
While celebrating the Incentive Day on Tuesday, RMA's Governor awarded the highest scorers.
The programme has encouraged the students to develop good saving habits.
The school observes 13th of every month as Banking Day whereby students have to deposit their money in their respective bank accounts.
"It encourages us to work harder. We are given dummy notes when we excel in any activities. To get the dummy notes, students therefore try to compete with each other and participate in co-curricular activities and all," Pema Zangmo, one of the students, said.
"Saving money is very hard. Whenever we get some money from our parents, we always think of spending it. But now I am now thinking of saving it for my future. In fact, it encourages every one of us to save money. We are also getting to learn the true value of money," Choeing Rangdrel, another student, said.
The initiative at the Arekha school is one of four pilot projects of the RMA's Youth Ethics Banking Incentive Programme.
As of now, nearly 1500 youths have opened saving account with the Bhutan Development Bank Limited (BDBL) and Bhutan National Bank Limited (BNBL). These youth are students of Jigme Losel Primary School in Thimphu, Wangsel Institute in Paro and members of Youth Volunteers in Action in Gelegphu.