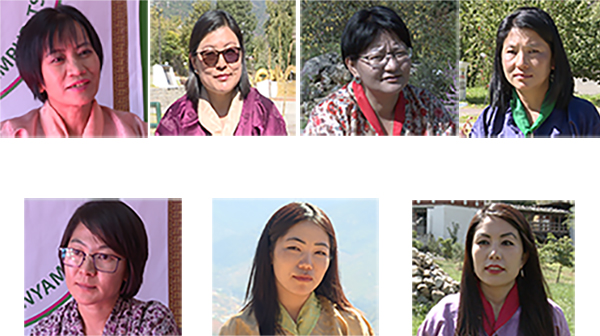 There are now seven women Members of Parliament (MPs) in the National Assembly of Bhutan, up from four each in 2008 and 2013. Thanks to the recent general election that saw the country elect seven out of 10 women candidates.
Now, that's a record number of female MPs in the National Assembly since the first elections in 2008.
"When we look at numbers, seven may not be a lot. In the context of 47, seven is not much but in the context of 10, when you put the denominator as 10 and you select seven, that is 70 per cent of women winning," DNT's North Thimphu MP elect Dechen Wangmo said.
"This is something to be happy about and it's very encouraging," she added.
Except for Dechen Wangmo whose contender was a female, the rest women MP-elects won over their male contenders.
They say the general election's results send a strong message. It's an indication of the Bhutanese society becoming more open to not just the idea of having elected women representatives but actually embracing and accepting it by electing them.
As DNT's Tashichhoeling MP-elect Dil Maya Rai put it, the Bhutanese voters are now, more than ever, ready to get women leaders on board.
"The mindset of our people has changed. They have started placing us on an equal footing with men," Dil Maya Rai, the MP-elect of Tashichhoeling constituency in Samtse, said.
To ensure there's no going back, Dil Maya Rai said, it's important that women continue to take part in the elections.
"We just need to come forward to participate and give the voters a choice," the Tashichhoeling MP-elect said.
The DPT's Norbu Wangzom is the MP-elect of Jomotsangkha_Martshala constituency in Samdrup Jongkhar. It's her comeback to the parliament of Bhutan.
She represented the constituency in the first democratically elected government from 2008-2012.
"In the past, men and women were judged based on their physical strength, but now people judge differently," she said.
It's no longer about only brawn but brain as well, she says.
The MP-elect of Sombaykha in Haa, Dorjee Wangmo and Gasa's Khamaed_Lunana MP-elect Yeshey Dem are the youngest of the seven female MP-elects. This is their first stint as a member of parliament.
"People say there aren't much support for aspiring women parliamentarians. I think it's just a matter of time and about women coming forward. If women are forth coming and take opportunity, people are supportive," Dorjee Wangmo said.
The MP-elect of Khamaed_Lunana, Yeshey Dem, had the same view to share.
"The reason why people voted for men in my constituency until today is because there were no women who came forward to contest. In my constituency, I'm the first female contestant and I received huge support from my people," she said.
An increase in the number of elected women representatives, even if it is just by one or two, is a big achievement for a country like Bhutan that suffers from poor women representation in the decision making spheres.
Women leadership remains poor across sectors with the situation particularly dismal in the parliament.
Lack of trust in women leadership continues to be one of the reasons why only few women make it to the positions of importance.
Stereotypes around gender roles shape peoples' perception about women's ability to take on positions that deviate from their conventional role of a home maker.
While it might take some time for Bhutan, or perhaps another era, to see a more gender representative parliament, every single win is a step closer to achieving this goal.
The 2018 National Assembly Election started with 18 women candidates in the four political parties of BKP, DNT, DPT and PDP.
After BKP and PDP got ousted in the Primary Round, the 10 women, five each from DNT and DPT, were among the 94 candidates who contested for a seat in the National Assembly.