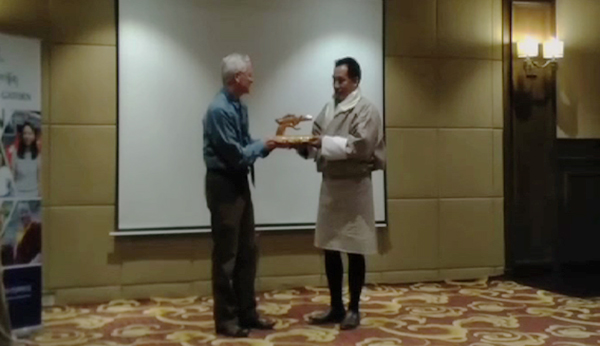 This year's best Loden entrepreneur was awarded to Nima Lotey of Nima Lotey Fibre Optics at the closing of the first-ever entrepreneurship festival, Druk Tshongrig Gatoen on October 27. He received a cash price of Nu 108,000, which he donated to a community charity cause.  
The Loden Foundation, a Civil Society Organisation (CSO) selected him as the best entrepreneur for being able to repay the foundation's loan on time.
A student with the College of Natural Resources, Karma Jamtsho, won the Bhutan Student Entrepreneur Award. He received Nu 50,000, which he can use to further invest in his on-campus business, a printing shop.
The Loden Foundation will facilitate Karma Jamtsho to represent Bhutan at the Global Student Entrepreneur Award in Macau, next year.
Ram Bahadur Gurung, the deputy chief programme officer with the Labour ministry received the Loden Mentor Award for his role in giving entrepreneurs expert advice and mentoring Loden entrepreneurs,
The Loden Foundation has been giving awards for thriving entrepreneurs since 2012.
The entrepreneurship festival was organized by the Loden Foundation in collaboration with UN in Bhutan, MoLHR, MoEA,Tech Park, BCCI, and REDCL.