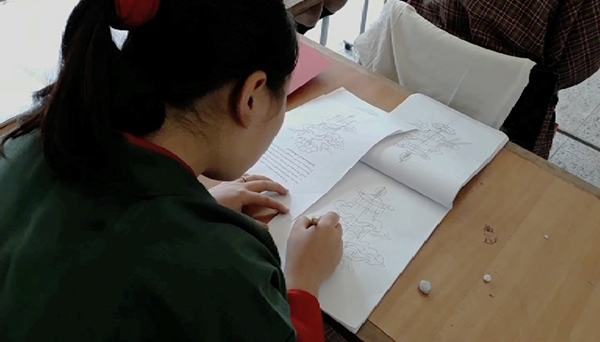 More girls are now taking interest in a six-year Painting or Lhadri course at the College of Zorig Chusum in Trashi Yangtse. This year alone 11 girls joined the course making it the highest female enrollment after the course was started more than two decades ago. 
The girls mostly class ten and a few class twelve graduates learn painting along with the male trainees. They said with limited job opportunities in the country, they saw better and secure job prospects if they acquire painting skills.
They added painting as the right profession for them since it does not require much physical strength.
"I foresee taking painting as a profession will have better opportunities in my life. If we learn with patience, it will not only benefit us but we can also help our parents with our earnings," Phuntsho Wangmo, one of the trainees, said.
"In the past, people thought girls cannot take painting as a profession but I think one's interest matters. I joined the course since I have been interested in painting from a young age," Tashi Lhamo, another trainee, said.
The college management says one of the reasons not many girls were keen on learning the art is due to the duration of the course.
However, from 2015 onwards the college started receiving increasing applicants from the girls.
"Girls get discouraged since the course duration for painting is very long. But now they seem to know the importance of the skills. They are picking up gradually, "Karma Wangdi, one of the instructors, of the college, said.
Since the establishment of the college in 1997, only around six girls have completed the six-year painting course so far.
"Most of the female trainees in the past could not complete their training after 1st and 2nd year. But we are hopeful to complete our entire course term. When boys can, why can't we?"Pema Selden, a trainee, said.
The college offers about nine different courses for about 200 students today.