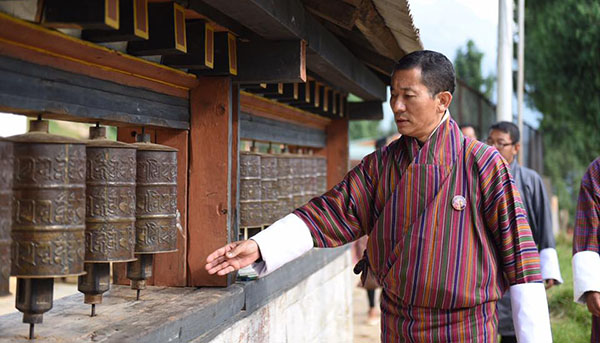 The Druk Nyamrup Tshogpa (DNT) has confirmed its President Dr Lotay Tshering as the prime minister nominee. The party's executive committee decided this today.
The DNT is, however, yet to decide on the members of the cabinet.
The DNT's General Secretary said the cabinet members would be decided only after the prime minister nominee receives Dakyen from His Majesty The King as per the Constitution.
This will happen once the 10-day election petition period ends.
A news release from DNT says in keeping with Article 17 of the Constitution, the prime minister nominee will recommend a list of ministerial candidates only after receiving Dakyen from His Majesty The King.
Article 17 of the Constitution says the Druk Gyalpo shall confer Dakyen to the leader or nominee of the party, which wins majority of seats in the National Assembly, as the prime minister.
Section three of the same article states that the Druk Gyalpo shall appoint ministers from among the members of the National Assembly on the recommendation of the prime minister, or shall remove a minister on the advice of the prime minister.
While DNT swept the West and the South completely in the General Election, only four of its candidates won from the east: Dasho Sherab Gyeltshen from Monggar, Kinga Penjor from Gangzur_Minjey in Lhuentse, Dorji Tshering from Radhi_Sagteng and Ugyen Dorji from Thrimshing Kangpara in Trashigang.
The DNT won only one constituency in the east in the Primary Round. During the General Election campaign, DNT's president shared concerns that if his party wins, they may not have ministers from the east if the Primary Round voting pattern continues.
He had emphasized the importance of having ministers from all the regions.
The party had said it will give at least three to five ministerial posts to its candidates from the east if it gets to form the government.
Meanwhile, DNT's elected members received certificates, endorsing their representation from respective constituencies to the National Assembly, today at the Election Commission of Bhutan.