ECB issues public reprimand to DPT's Dramedtse_Ngatshang candidate
Sonam Pem, Thimphu

Oct 13, 2018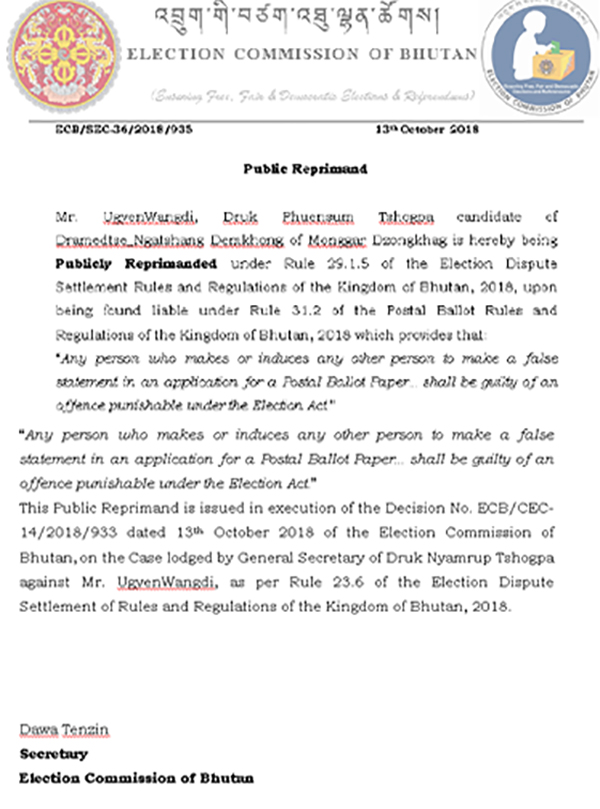 The Election Commission of Bhutan (ECB) has publicly reprimanded Druk Phuensum Tshogpa (DPT)'s Dramedtse_Ngatshang candidate, Ugyen Wangdi.
The ECB issued the public reprimand to the candidate under the Election Dispute Settlement Rules and Regulations 2018 today.
The commission stated that: "Breaching the Postal Ballot Rules and Regulations, the DPT candidate was found instigating voters of his constituency, living in Wangdue Phodrang to make false statement of their identity and work place to avail postal facilitation booth in Thimphu."
The public reprimand points out that he has been found liable under rule 31.2 of the Postal Ballot Rules and Regulations of the Kingdom of Bhutan, 2018, which says:
"Any person who makes or induces any other person to make a false statement in an application for a Postal Ballot Paper… shall be guilty of an offence punishable under the Election Act."
The public reprimand was issued following the complaint lodged by the General Secretary of Druk Nyamrup Tshogpa (DNT) against the DPT candidate.