Shortage of irrigation water forces farmers in Yongsibi to leave their fields fallow
Airaj Tamang, Dagana

Oct 12, 2018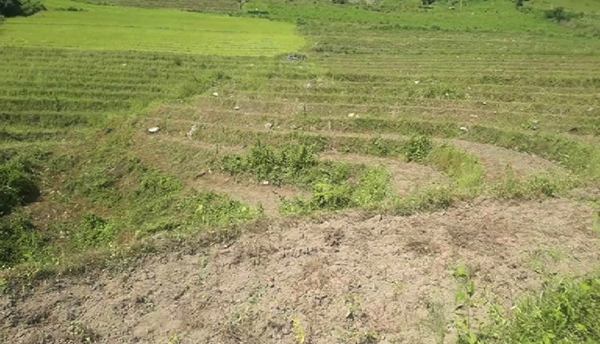 Twenty-two households of Yongsibi under Drukjeygang Gewog in Dagana are forced to leave about 100 acres of their paddy fields fallow due to the shortage of irrigation water this year.
Farmers say they usually grow enough rice for their own consumption. But this year, they are worried they have to depend on imported rice.
"I left my paddy fields fallow, I could not even cultivate other crops, " Jitchen Dema, a farmer, said.
Instead of leaving the fields fallow some farmers have cultivated other crops.
"After preparing our fields for paddy transplantation, we could not carry out the works because of the shortage of irrigation water. So we planted maize and pulses," Tashi, one of the farmers, said.
"It took me three days to ready my paddy fields for transplantation. But, I had to cultivate pulses because of water shortage," Pema Zangmo, another farmer, said.
The Drukjeygang Mangmi, Jigme Tshering said the village is faced with the shortage of irrigation water because the only water source at Tardalung has to be shared with another village, Pangserpo.
"To address the irrigation water problem at Yongsibi, we have plans to supply water from Pangna and Thangna water sources."
Meanwhile, with political parties promising to solve the water issues, farmers are hopeful that the new government will look into the issue. And they hope that they won't have to leave their paddy fields fallow next season.